'Humiliating': Iranian women excluded as Syrian women watch World Cup qualifier in stadium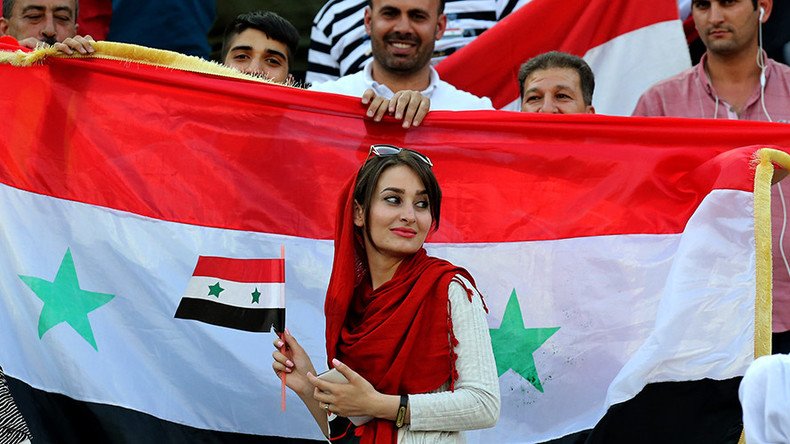 Iranian activist Darya Safai has described the exclusion of the country's women from watching a home World Cup Russia 2018 qualifying match versus Syria while visiting women fans were permitted as "humiliating."
Syria breathed life into their World Cup qualification quest with a last-gasp equalizer against Iran on Tuesday, but Iranian women, who continue to be banned from their national stadiums, were denied entry to the Azadi Stadium in Tehran.
When Syrian striker Omar Al Somah slotted the ball through the legs of Iranian keeper Alireza Beiranvand in the 93rd minute of the match, he etched probably the brightest moment in the country's history for six long years.
Al Somah had equalized in a game Syria were losing 2-1, meaning their hopes of qualifying for Russia 2018 were over. His goal and the eventual 2-2 result put Syria in 3rd place, ahead of Uzbekistan on goal difference, thus granting them a playoff place for a spot in the finals in Russia next summer.
Al Somah tore away from that heady moment and collapsed, overawed, to his knees. His teammates hastily followed to hug the jubilant 27-year-old.
The voice of the match commentator in his home country, some 1,800km westward, cracked and disappeared into a whisper as he burst into tears, his emotions accentuated by the fact that no Syria home game had been played since 2011.
The debilitating horrors caused by the six-year civil war had rendered Syria incapable of hosting a match and forced the team into exile, meaning their Road to Russia had been carved out via Malaysia, some 7,000 miles from the Arab republic, where the team held their home matches.
Although the result against Iran was a draw, it was perceived as a moral Syrian victory. A country ravaged by war, which had defied so many odds to come so far, had added another leg to its already incredible journey.
A marker of Syrian progress in football is that in only January, Al Ittihad Aleppo hosted Al-Horriya in their first game on home turf since the Syrian Army liberated the whole city, the first sporting event there since the Battle for Aleppo.
Progress is not a word that can be attributed to another battle – for social equality and an end to prejudice in Iranian sports, two topics that were evident in notable exceptions from the Azadi Stadium on Tuesday.
Among them were former "Team Melli" players Masoud Shojaei, 33, once the captain, and Ehsan Haji Safi, 27, who had been expelled from the team for life after they played against Hapoel Tel Aviv, a club from Israel – a state not recognized by the Tehran regime – for their club side Panionios in the Champions League.
Neither was any Iranian woman present in the stands in Tehran. In fact, Iranian women have not seen a single minute of Iran's World Cup qualifying campaign, due to a ban on women attending games that has been in place in the country since 1982.
Syrian women were however, admitted access into the stadium. Activist Darya Safai, activist and founder of the group Let Iranian Women Enter Their Stadiums that targets gender discrimination, believes this is an inequality that humiliates Iranian women, who remained barred.
"Do you know how humiliating it is for Iranian women to know that during the FIFA World Championship qualification games in Tehran, while they were prohibited to enter the stadium, foreign women could be present at the Azadi stadium because they had a foreign passport?" Safai told RT Sport via email.
"In pictures of the game yesterday, you can see Syrian women enjoying the atmosphere. We can even see some Syrian women without hijab (compulsory wear for women since the Islamic Revolution in the country in 1979).
"They are happy to be in the stadium and cheer for their national team. Meanwhile, outside, Iranian women forced to wear the hijab are waiting behind closed doors.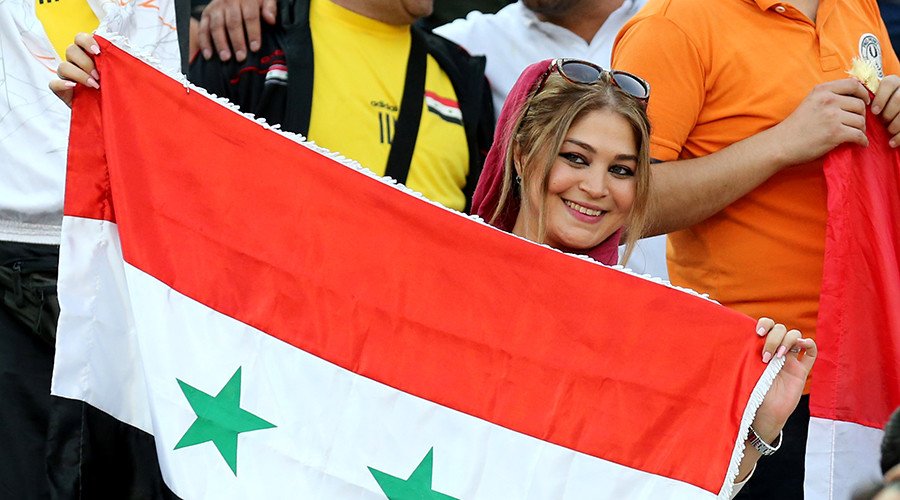 "Even though some of the Iranian women could purchase a ticket due to a technical problem, access was denied. Not only they are discriminated because they are women, but also because they are Iranian."

Iranian women have gone to great lengths to get around the rigid ban on their presence at football matches. In February, eight women were arrested attempting to gain to the popular derby between Perspolis FC and Esteghlal DC, disguised as men.
The expulsion of both the players and women saw subsequent social media campaigns – that called for men and women to be allowed to attend together and, specifically in response to the players' expulsion, to boycott the game altogether – gain momentum in the leadup to the game.
In an apparent effort to combat any boycott, the Football Federation of the Islamic Republic of Iran distributed free tickets on the day of the game to avoid the crowd being depleted, but still only 68,000 seats were occupied, compared to the 112,000 that watched Iran's qualifier versus China in March.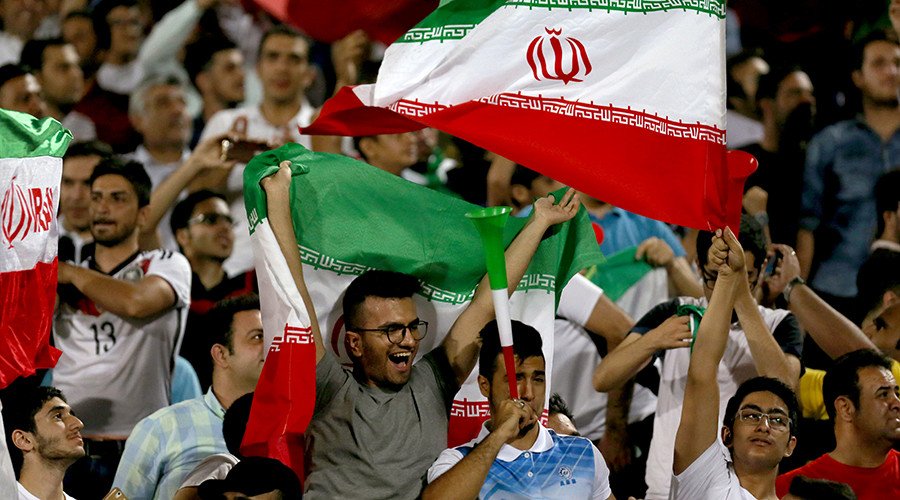 However, none of these tickets were made accessible to Iranian women, despite sales initially including a "Mrs" gender when buying tickets online. The Iranian government later explained this as a "technical glitch", and later saying in a statement to AFP it had "no plan to allow the presence of women in Azadi stadium for the Iran-Syria match."
Due to the mistake, some women were successful in gaining tickets, but were nevertheless denied entry to the stadium on matchday. When they protested the action, they were reportedly threatened with arrest.
READ MORE: 'No plans to allow women attend Iran soccer match,' federation insists
Such actions, which have been described by some critics as "sexual apartheid," are not only prevalent in football. Iranian women are also not permitted to attend stadiums where men's volleyball matches take place.
In November 2014, the International Volleyball Federation (FIVB) announced not to award any more events to Iran until the ban on women was lifted, but then reneged on the announcement and allowed Iran to host the FIVB World League games in 2015, 2016 and 2017.
One Iranian MP, Parvaneh Salahshouri, refused an invitation to Tuesday's game, as she had previously done with a request for her to attend a volleyball match. Salahshouri, who heads the women's faction in parliament, objected to the "hand-picked presence" of women at the events.
"I am against hand-picked, chosen presence of women in the stadium. Today I've been contacted, and also other women from the parliament, by the Ministry of Sports," she said.
"They asked if we could be present in the Azadi stadium for the game Iran-Syria. …But I didn't accept the invitation and I said I will not go and I am against the system of some hand-picked chosen women.
"As long as the girls of our country need to disguise themselves as boys for a simple match, I, as a representative of the people, will not to go the stadium and I don't appreciate this action of the Ministry of Sports."
Although Iranian women were not allowed to attend qualifying games in Iran, they will be allowed in stadiums at the World Cup in Russia next summer. Iran qualified for the tournament unbeaten to finish top of Group A with 22 points. Safai believes that the pride of Iranian women in their football team will take them to Russia to support their nation.
"A lot of Iranians, men and women, will go to Russia. They are proud of their national team and of course they want to support the players during a big important tournament like the World Cup," she said.
"In The Islamic Republic of Iran, women can't be part of the "beautiful game," but in Russia, Iranian women will have the right and the possibility to participate just like all other people from different nationalities can.
"Iranian women will travel such a long way, just to have the possibility to support and be with their heroes of the national team," Safai added.
While Syria, who were forced to achieve their dreams by traveling 7,000 kilometers to play home games in Malaysia in the absence of peace in their home country, the FIFA World Cup will present a similar opportunity for Iranian women, who will finally watch their football heroes, in the absence of social equality in their country.
by Danny Armstrong for RT Sport
You can share this story on social media: