'It won't get better' - Iranian activist Darya Safai on footballers' ban for playing Israelis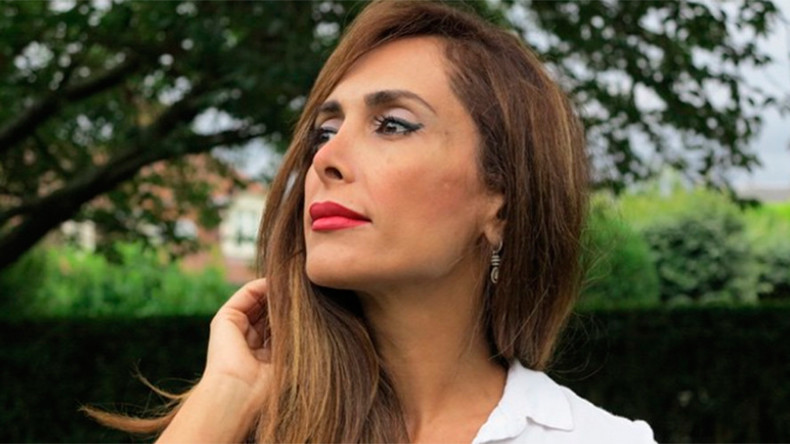 The Iranian men's national team has banned two players for life for playing in a match against an Israeli team for their Greek club side in the UEFA Europa League.
Iran national team captain Masoud Shojaei, 33, and Ehsan Haji Safi, 27, were barred from representing their country after they played for Panionios against Israel's Maccabi Tel Aviv in the home leg of their UEFA Europa League 3rd qualifying round match in Athens on August 3.
The bans are in accordance with Iran's longstanding prohibition of its sportspeople from competing against their counterparts from Israel, a state it does not recognize.
Athletes have known to be rewarded by the government for refusing to face Israeli competitors. In 2004, Iranian world judo champion Arash Miresmaeili pulled out of the Olympic Games in Athens rather than fight an Israeli.
Darya Safai, an Iranian-Belgian activist and founder of "Let Iranian Women Enter Their Stadiums," a movement which calls for an end to the prohibition of women watching men's sports events in the country, believes the damage this causes to Iranian sport will not get better under the current government.
"This [causes] very big damage [to] the sport and for our national team in Iran," Safai told RT Sport over the phone from Belgium.
"It is very important to know that those sportsmen are playing all over the world and they should also be playing with every human being, because the goal of sport is bringing people together.
READ MORE: Olympic security tell Iranian women's rights activist to take down equality banner
"So we cannot be tearing apart people of different countries or of different genders like this Islamic Republic of Iran is trying to do the whole time in the sporting world.
"[The Iranian government] are trying to bring people apart if they are men or women. They ban the women entering their stadiums and it's already 38 years [since the Islamic revolution of 1979] that Iranian athletes cannot play against Israelis."
"They for 38 years don't let the people breathe because they are totalitarian. There is something very taboo for them. Some things are very important for the Islamic Republic to be based on: one of them is discriminating against women.
"This is really so important for them. If one day you hear that women and men are equal in the Islamic Republic of Iran then you should know that it is not this 'machine' any more.
"The other important thing is: having an enemy to make sure that they can continue governing the country. This enemy is America and Israel. Another thing is discrimination based on religion.
"It is not possible for things to get better under the regime. If one of these three elements changed, then they are no longer the Islamic Republic of Iran."
Both Shojaei and Haji Safi each played 90 minutes for Panionios in the 1-0 defeat to Maccabi Tel Aviv, resulting in not only expulsion from the Iranian national team, but also admonishment from both the football federation and parliament.
The Football Federation Islamic Republic of Iran said in a statement it "strongly condemns" the participation of Shojaei and Safi, AP reported, citing the Iranian semi-official Fars news agency.
The New York Times quoted Iran's Deputy Sports Minister Mohammad Reza Davarzani, saying on Iranian state television on Thursday: "It is certain that Masoud Shojaei and Ehsan Haji Safi will never be invited to join the national football team because they crossed a red line."
The 'red line' has been crossed by Iranian sportspeople before. The case of the two footballers is similar to that of 15-year-old junior chess player Borna Derakhshani, who was expelled from the national team after playing against an Israeli player during the 2017 Tradewise Gibraltar Chess Festival in February.
Shojaei and Safi are perceived as having committed the same taboo.
Safai, however, dismissed the claim that such a line has been crossed as "ridiculous" and instead says FIFA, world football's governing body, should resolve the issue of the two players, who she believes have been caught up in political wrangling.
"This problem between the Islamic Republic of Iran and Israel is between two political parties. It's not a problem of Iranian people with the Israeli people or of the sport world. I hope soon FIFA take responsibility and do the necessary things to bring them back to the national team. There is no reason that they should be eliminated.
"Davarzani says that this is because they didn't accept the situation of the regime and they crossed a red line? This is ridiculous. [The Iranian people] look at Shojaei and also Haji Safi as their heroes, whenever they see them on television running for the crowd of Iran, then we have a sort of emotional connection.
"This is what we want from FIFA: help us to keep our heroes in our national team, otherwise they don't respect their own laws of no politics in the sports world."
RT Sport contacted the Football Federation Islamic Republic of Iran for comment but had not received a reply at the time of publishing.
By Danny Armstrong for RT Sport
You can share this story on social media: