Iranian soccer star banned for not wearing hijab in exhibition game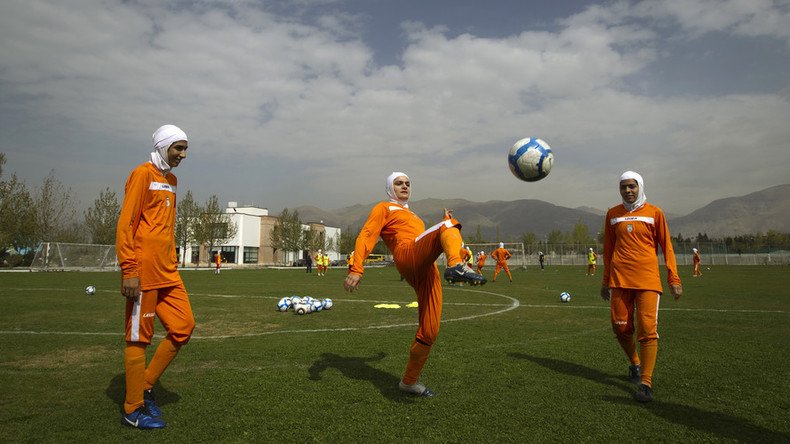 A female Iranian soccer star has been dropped from her country's national team for not wearing a hijab in a friendly match.
Shiva Amini was on a tour of Switzerland and Italy when she took part in an exhibition game alongside male players recently. Amini's offence was discovered after photographs of the match in the Swiss capital, Zurich were posted on Instagram showing her wearing shorts and playing without a veil.
The garment has been compulsory dress for women in Iran since the Islamic Revolution in 1979.
Speaking to Masih Alinejad, an Iranian journalist and activist operating the My Stealthy Freedom Facebook page, Amini said: "[They] were not even official games where I had to represent the Islamic Republic.
"The officials of the Iranian Futsal Federation told me, 'When you are a member of an official team, you do not have the right to play without the veil even in non-official games abroad. We are living in [an] Islamic country. Why did you have to play with boys? You would have been disqualified from the team even if you had played with boys wearing a veil in Iran.'"
Writing to equality group Women in the World, Alinejad said Iranian government officials often downplayed the importance of the compulsory veil.
"If compulsory veil is such an unimportant issue, then why would people like Shiva be disqualified at the drop of a hat despite [after] having devoted 13 years of her life to this sport with the hope of bringing a medal to Iran? Why would the Iranian government spend huge sums of money and arrest or verbally warn millions of women annually?" she wrote.
This is not the first time controversy has been sparked over the hijab.
In 2012, FIFA barred the Iranian women's team from the Olympics, citing concerns over the safety of players wearing the Islamic headscarves during games. The ban was subsequently lifted in 2014.
In October last year, the Russian mini-soccer, or futsal, team donned the hijab during a friendly tour of Iran. Executive director of the futsal club Dina, Aleksandr Kochetkov, said the move was designed to show "respect to the Muslim religion."
In February, Dorsa Derakhshani, an 18-year-old chess grandmaster, was kicked off the Iranian national chess team after competing in an international tournament without a hijab.
Derakshani was not representing Iran at the Tradewise Gibraltar Chess Festival. Her brother Borna, 15, was also banned for playing Israeli Alexander Huzman in the same tournament.
You can share this story on social media: