Olympic security tell Iranian women's rights activist to take down equality banner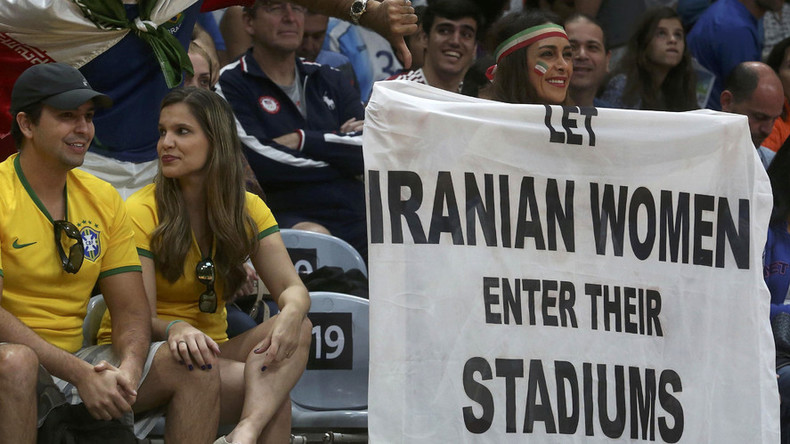 An Iranian women's rights activist was questioned by Olympic security personnel and asked to leave the sports venue after she showed up to a volleyball match holding a large sign calling for gender equality.
Seated in the front-row courtside at the Maracanazinho arena during Saturday's game between Egypt and Iran, Darya Safai's banner read: "Let Iranian Women Enter Their Stadiums."
The 35-year-old was wearing a white T-shirt with the same message and holding up the sign when she was approached by security, AP reports.
Iran's longterm ban on women attending football matches was extended to volleyball in 2012 in an attempt by the country's authorities to enforce further strict interpretations of Islam at social gatherings.
Safai said Olympic officials tried to force her to leave the venue. She was seen briefly crying during the confrontation "because it hurts to explain again and again that this peaceful action is not a political message" but is the expression of a right, she said afterward.
Under the International Olympic Committee's Olympic Charter, political messages are banned from all of its venues. Rule 50 of the charter states: "No kind of demonstration or political, religious or racial propaganda is permitted in any Olympic sites, venues or other areas."
Security personnel abandoned their effort to force her from the stadium when she refused to leave. Despite the attempt to censor her message, Safai said she would continue her efforts to highlight the gender equality campaign.
"They said they didn't want the signs in front of the cameras and they asked us to leave," she told AP. "They even tried to impress me with military people. I think it is a pity they always listen to what the regime of the Islamic Republic of Iran says."
Safai added that it wasn't the first time she had this experience but that she "won't give up because that's what Iranian women do, they keep fighting for their rights."
The activist, who fights against gender discrimination, founded the movement to allow women in Iran attend sporting events. She said would attempt to bring her cause to the Maracanazinho arena again during the Summer Games.
"The Olympic Spirit, which is against discrimination is what Iranian woman need in their country," Safai said. "It should be the right of everyone, men and women, to attend a sports game."
After the incident, Safai was flooded with messages of support on social media.
One Facebook user said: "I'm very very proud of you, girl! I'm a Brazilian woman and things are not easy to us here too, but you're a fighter and be sure that you'll be known by your courage for the next generation."
READ MORE: Hijab-wearing volleyball player a smash hit online after Rio Olympics photo
Another wrote: "Keep going! Never give up! You're inspiring so many girls around the world to step up! To never remain [in] silence!"
You can share this story on social media: