Hijab-wearing volleyball player a smash hit online after Rio Olympics photo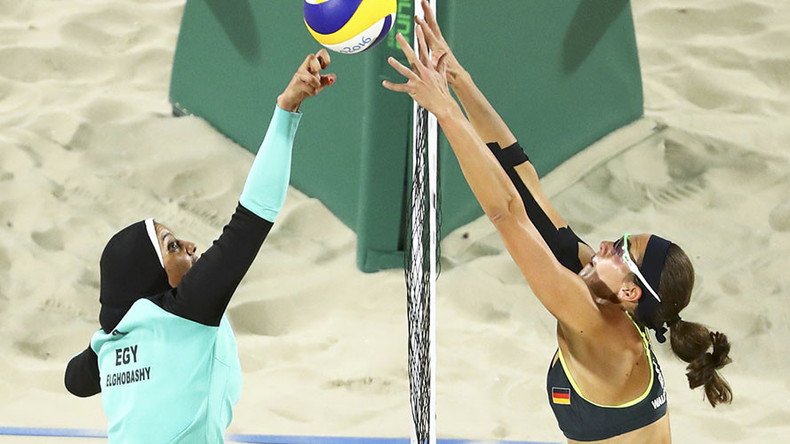 Who said you have to wear a bikini to play volleyball? Despite the sport being associated with standard beach attire, a game between the Egyptian and Germany women's volleyball teams in the Olympics showed the contrast of cultures between both teams, breaking perceived notions of what an athlete should wear.
Nada Meawad and Doaa Elghobashy, who chose to wear a hijab, opted for leggings and long sleeves in comparison to their German rivals, who wore standard two-piece bikinis for the event.
The International Volleyball Federation (FIVB) previously had standard regulations for uniform sizes, but guidelines were relaxed for the London 2012 Olympics to include full sleeves and leggings.
With uniform rules getting with the times culturally, women from Muslim countries have been able to wear hijabs and modest clothing in line with their beliefs while participating in the Olympics.
Despite losing against the German duo of Laura Ludwig and Kira Walkenhorst in the 40-minute game, Elghobashy was more than thrilled to be representing her country as part of Egypt's first Olympic beach volleyball team.
"I have worn the hijab for 10 years," she told AP after the game. "It doesn't keep me away from the things I love to do, and beach volleyball is one of them."
Elghobashy and Meawad qualified for the games by participating in a regional competition aimed at opening sports up to countries beyond Europe and the Americas.
FIVB spokesperson Richard Baker said the sport wanted to "open it up culturally" for players. "The goal was to allow more people to play the sport of volleyball," he said.
US fencer Ibtihaj Muhammad has worn the hijab throughout her career and is the first athlete to compete in the sport while covering her hair.
You can share this story on social media: