Boxer Pacquiao denounces transgender lifestyle as 'fraud' in response to US Marine murderer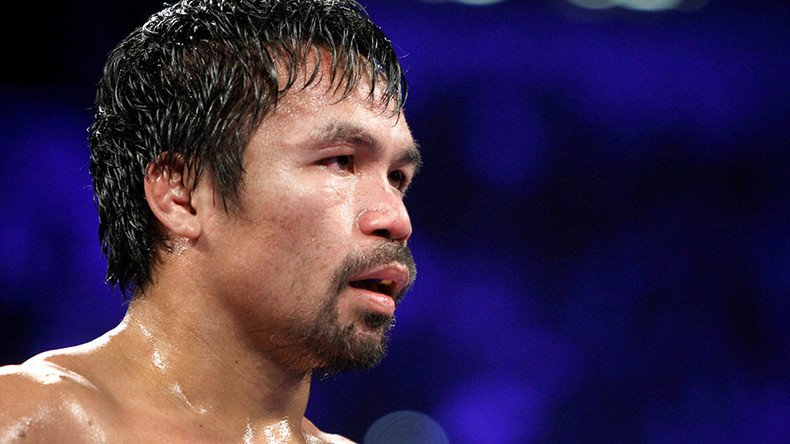 Multiple boxing world champion Manny Pacquiao has alleged cross-dressing by those identifying as transgender could "deceive" others and may be used to commit fraud.
The Filipino five-weight world champion made the comments in relation to the murder of 26-year-old Filipina transgender sex worker Jennifer Laude, who was strangled to death by US Marine James Scott Pemberton upon discovering her gender.
Laude was found dead in the Celzone Lodge hotel with her head in a toilet bowl after meeting Pemberton, 19, in a nightclub in Olongapo City, a port community northwest of Manila, where he had just finished taking part in joint US-Philippines military exercises.
Pemberton was later found guilty of murder and sentenced to 6 to 12 years in a Philippines prison.
Commenting on the incident, Pacquiao said that Pemberton had been "deceived" by Laude, who was a "guy who dressed up like a woman," and suggested that transgender could be used to "commit fraud," according to GMA News.

"Even in the Bible, we read that the woman should wear women's [clothing]; and the man, for men's wear. That's what I believe," Pacquiao said, quoting the Bible in support of his argument.
It is not the first time Pacquiao has openly expressed his religious beliefs, as he regularly posts Bible scriptures to his social media accounts and prays in the ring before and after bouts. His wife, Jinkee, is former vice governor of Sarangani, in Mindanao, Philippines.
The 38-year-old has also been heavily involved in politics throughout his career, serving as Senator of the Philippines and briefly quitting boxing in 2016 to pursue a career in Congress.
Today is also opening of Congress. @mannypacquiao starts as senator. Imelda Marcos is still a lawmaker. Geraldine Roman 1st transgender rep

— Ayee Macaraig (@ayeemacaraig) July 25, 2016
Ironically, Pacquiao was elected in the same 2016 elections in which Geraldine Roman became the first openly transgender woman to join the Congress of the Philippines, and who is also religious.
Pacquiao caused a storm last year when he made derogatory comments about homosexuals, stating that he believed gays are "worse than animals," and attributed his viewpoint to his religion.
"It's just common sense. Do you see any animals of the same sex mating? Animals are better off, they can distinguish between male and female. Now if men are mating with men and women with women, then they are worse than animals," Pacquiao told TV5, but later apologized.
US broadcaster HBO, the station which broadcasts Pacquiao's fights, subsequently released a statement distancing themselves from Pacquiao's comments. Sporting giant Nike went one step further and terminated their relationship with the fighter.
Pacquiao then came out of retirement after admitting that he "missed boxing" and made his ring return by defeating American Jesse Vargas for the WBO welterweight title over 12 rounds in Las Vegas. In doing so he became the first and only senator in history to win a boxing world title.
Pacquiao again caused controversy when he spoke out in support of Phillipines president suggested crackdown on drug dealers which has led to over 3,000 deaths in the Philippines, although he admitted to having taken drugs in the past.
"God put him [Duterte] there for a reason, for purpose – to discipline the people," Pacquiao said of the crackdown.
Bob Arum, the fighter's manager and head of promotional company Top Rank, recently announced plans to take Pacquiao on a worldwide retirement tour, with Russia, Australia, and the United Arab Emirates as possible destinations.
READ MORE: Manny Pacquiao offered summer 2017 fight in Russia - promoter Bob Arum
The boxer tweeted a poll asking his 111k followers who they would like to see him fight next, giving the options of Brit pair Kell Brook and Amir Khan, Australian fighter Jeff Horn, junior welterweight world champion and pound-for-pound superstar Terence Crawford.
Who do you want me to fight next in the UAE?

— Manny Pacquiao (@mannypacquiao) February 12, 2017
The result was 48 percent of the 44,815 voters chose Amir Khan, with whom Pacquiao used to spar and train at Freddie Roach's Wild Card gym in Los Angeles. Pacquiao's next fight will take place in the United Arab Emirates in April, although the identity of his opponent is still unknown.
You can share this story on social media: