Pacquiao admits to drug past, but backs Duterte's crackdown in Philippines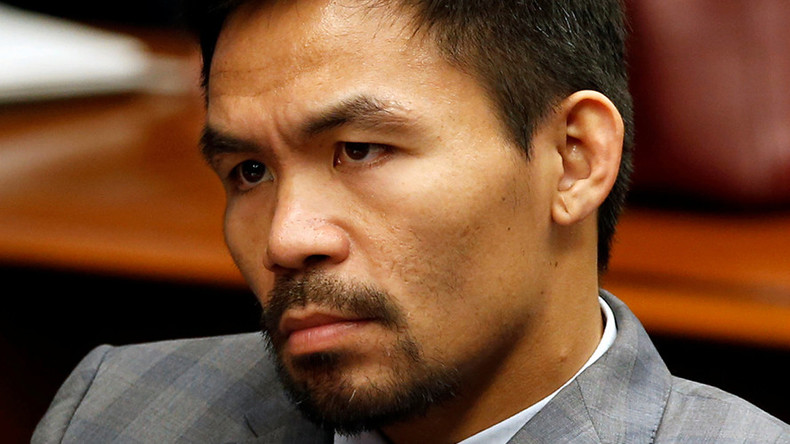 Boxing legend Manny Pacquiao has admitted he has taken drugs – but says he supports a crackdown on dealers which has led to over 3,000 deaths in the Philippines.
Since taking over as president in June, Rodrigo Duterte has made tackling drug problems his priority, claiming he will not stop "until the last drug manufacturer is killed."
According to police, 3,171 drug dealers and users have been killed since the crackdown, which Pacquiao has fully supported.
He said: "The president, he doesn't know my experience with drugs. I tried drugs – many kinds of drugs, all kinds of drugs."
"God put him [Duterte] there for a reason, for purpose – to discipline the people.
"In the past administrations, people didn't respect the law, the leader, the authorities.
"What Duterte is trying to do is let the people know – and put it in their heart and minds – that you need to respect the laws of the land."
The 37-year-old's comments come after Duterte caused controversy by calling Barack Obama a "son of a whore."
He warned the US president not to question him about extrajudicial killings. Obama subsequently canceled a meeting with Duterte.
Pacquiao dismissed Obama's worries about his president. He said: "Mr Duterte is a respectful person, a hospitable person, a friendly person."
Despite Obama's misgivings about his actions, Pacquiao gave his backing to Duterte in his first speech in the senate by calling for the death penalty to be reinstated for drug dealers.
Pacquiao also fronted a motion to oust the chair of a high-profile committee investigating Duterte's alleged links to vigilante death squads in Davao.
The pair are close allies, with Pacquiao godfather to Duterte's grandson.
Their friendship dates back at least 15 years, with Duterte previously helping to organize one of Pacquiao's fights.
"He helped me a lot – helped me with the promotion when I started in boxing," said Pacquiao.
"One of my fights held in Davao, he sponsored it. He helped with the promotion, financially as well."
You can share this story on social media: