Nike ends Manny Pacquiao contract after boxer says gays are 'worse than animals'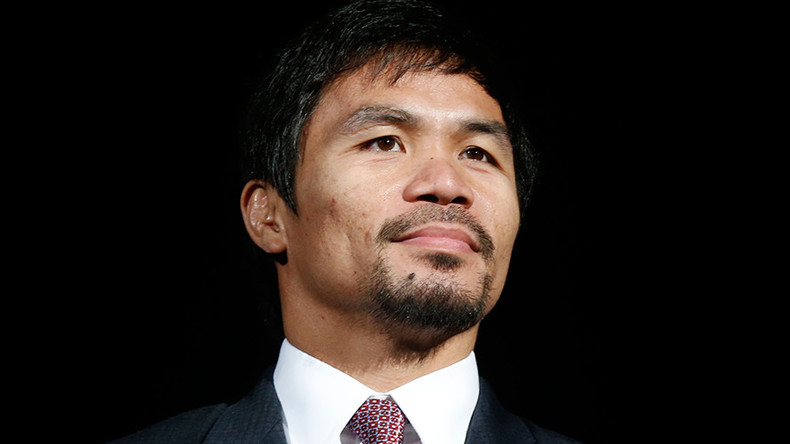 The US sportswear giant Nike has canceled its contract with Filipino boxer Manny Pacquiao, after he described gays as being "worse than animals." A spokesperson for the firm called his comments "abhorrent."
The decision taken by Nike comes after Pacquiao's comments caused outrage around the globe, and an online petition was launched which called on the company to end its relationship with the boxer.
"We find Manny Pacquiao's comments abhorrent," a Nike spokesperson said in an emailed statement, as cited by Reuters. The company also added that they would no longer be using the 37-year-old to promote their endorsements.
Pacquiao was the world's second highest paid athlete in 2015. He earned $160 million, largely from a boxing match with Floyd Mayweather, which netted more than $600 million overall. The 37-year-old also earned $12 million last year in endorsements.
Pacquiao, one of the most popular people in the Philippines for having won world boxing titles at eight different weights, caused controversy during a short interview for local television about same-sex marriage.
"It's just common sense. Do you see any animals of the same sex mating? Animals are better off, they can distinguish between male and female," Pacquiao told TV5 on Monday.
"Now if men are mating with men and women with women, then they are worse than animals," he said.
Pacquiao, who has enjoyed a two-decade career in boxing and has also become a successful politician in the Philippines, apologized on Tuesday for his comments.
"I'm sorry for hurting people by comparing homosexuals to animals. Please forgive me for those I've hurt," Pacquiao said in a video message on his Twitter and Instagram accounts. However, he still mentioned that he was against same-sex marriage.
"LGBT groups and individuals are saying he should not be voted into office... we are one of them," Danton Remoto, head of Philippine lesbian, gay, bisexual and transgender group Ladlad, or Out, told Reuters.
Pacquiao has spoken out against same-sex marriage before. He made similar remarks in 2012, for which he later apologized.
Same-sex marriage is illegal in the Philippines, where more than 80 percent of the 100 million population are Roman Catholic.
Pacquiao has often spoken of his Christian faith, while many Filipinos hold similar views on gay rights because of their religion.
While some Christian followers gave their support to Pacquiao, his former boxing rival Mayweather took aim at him, saying: "We should let people live their lives the way they want."
You can share this story on social media: