UFC's Ferguson blasts Nurmagomedov as tensions rise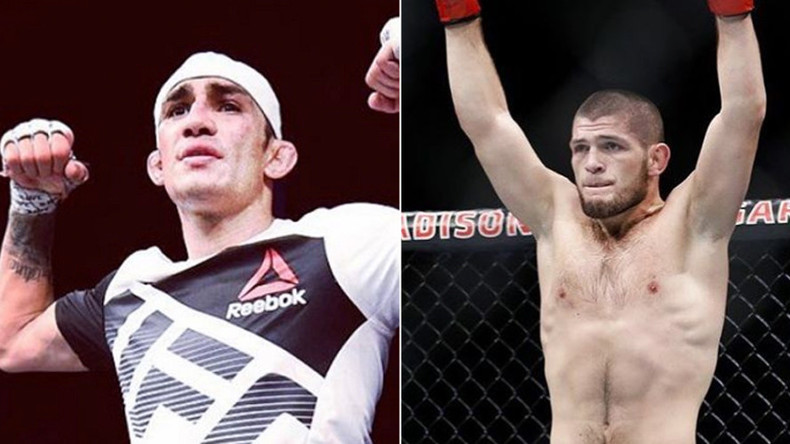 American UFC fighter Tony Ferguson has dismissed Khabib Nurmagomedov's claims he should be handed a lightweight title shot by calling his Russian rival "a whiny b*tch."
Just a week before the history-making UFC 205 event in New York, Ferguson took his professional MMA record to 22-3 with an impressive victory over former champion Rafael dos Anjos in Mexico City.
READ MORE: Tony Ferguson beats Rafael dos Anjos in UFC Mexico clash
With current champion Conor McGregor taking some time out of the sport, Ferguson believes Nurmagomedov is jumping the gun by demanding a shot at the belt.
"All bullsh*t aside, the guy is a whiny b**** - he can whine as much as he wants to," Ferguson told Monday's edition of The MMA Hour.
"Instead of people saying, 'Hey, you need to go for the belt,' or, 'You need to do this, you need to do that' – me, I'm waving my little finger in the air and I f****** keep moving forward.
"Right now I got, what, eight finishes out of 12? I'm on a nine-fight win streak. I'm what, 22-3? S***, where's my title shot, man?"
READ MORE: 'If UFC don't give me title shot, I have a big plan. In few days you'll know' – Khabib Nurmagomedov
Ferguson said he would be happy to face Nurmagomedov, a fighter with whom he has "unfinished business" after two previous fights between the pair were cancelled due to injury.
"He hasn't wanted nothing to do with me. His pops was like the first one to say, 'Yeah, my son will fight you,' and Khabib's running the other way," said Ferguson.
"He's calling Conor a chicken and Khabib is running from me, I'm calling him a chicken. So it's a trickle effect, man. I'm telling you, everybody is scared of the Bogeyman at the end."
Read more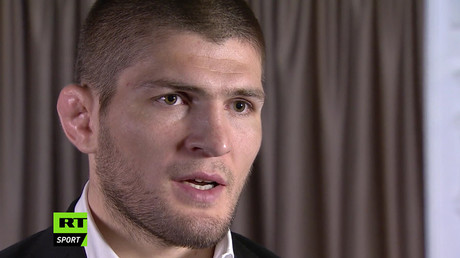 With a record of 24-0 following his impressive victory over Michael Johnson at UFC 205, Nurmagomedov recently confirmed in an exclusive interview with RT Sport that he would happily face Ferguson.
"I want to fight for the interim belt with Tony Ferguson," said Nurmagomedov.
"Ferguson is a tough guy. Tough opponent. Nine wins streak. Why not? I think this is a real high-level lightweight fight. Not Conor versus me. I think this is a real high-level fight. Let's go. Keep fighting. Keep going."
The Russian dominated Johnson throughout their fight at Madison Square Garden, but Ferguson was unimpressed by his performance.
"He got smacked up a couple times like I thought he was going to," Ferguson said.
"But when you put all your chips in the striking, you're going to get exactly what Michael Johnson did, which is absolutely nothing off the bottom. He didn't practice, not one time probably, getting up.
"I don't know, Khabib did good. I'll give that to him, but he ain't going to go five rounds with me. That's for sure. That dude only wants to go one and out," he added.
With a planned bout against an unnamed opponent at UFC 208 in January falling through, a fight between Ferguson and Nurmagomedov at UFC 210 at the beginning of March could be the next logical step for the duo.