Tony Ferguson beats Rafael dos Anjos in UFC Mexico clash
Published time: 6 Nov, 2016 06:45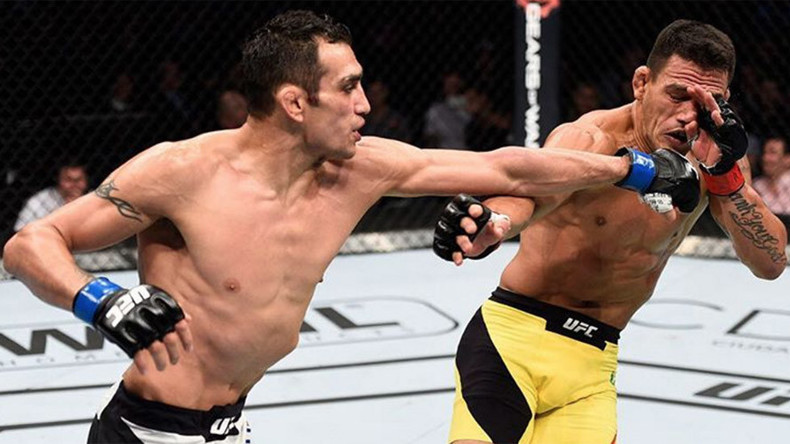 American UFC fighter Tony Ferguson has extended his winning streak to nine bouts by beating Rafael dos Anjos in Mexico on Saturday night.
The clash was the headline of the much-anticipated event in Mexico City, with the 32-year-old Californian winning the lightweight clash by unanimous decision (48-47, 48-47, 48-47).
Dos Anjos started promisingly and connected with a number of bruising leg kicks and straight lefts in the first round.
However, Ferguson successfully avoided the Brazilian's takedowns on a number of occasions and came back into the contest in the second five-minute round.
Ferguson was guilty of an eye poke in the second round and repeated jabs from the American drew blood from Dos Anjos' nose.
The third round was very even, but a number of powerful combinations from the Californian tipped it in his favor.
Ferguson continued his onslaught in the fourth, connecting with a number of head kicks and sickening strikes to Dos Anjos' face.
The Brazilian knew he had to come out in the final round and finish his opponent, but the eventual victor continued his strong takedown defense and cut Dos Anjos above the right eye with a strong left hook.
The bout came to a frenetic conclusion, with Ferguson the victor after 25 breathless minutes to extend his mixed martial arts record to 22 wins and 3 losses.
The American has become the first lightweight to record nine consecutive victories in the UFC and put forward a strong case to be allocated a title shot.
He could even be in line to face the winner of Conor McGregor and Eddie Alvarez.
"Tony was a better fighter tonight," Dos Anjos admitted after the fight.
"I felt like his fingers in my eye bothered me in the second. But that's not an excuse. Tony did a great job. He was a better fighter today."