Nurmagomedov destroys Johnson at UFC 205, demands fight with 'chicken' McGregor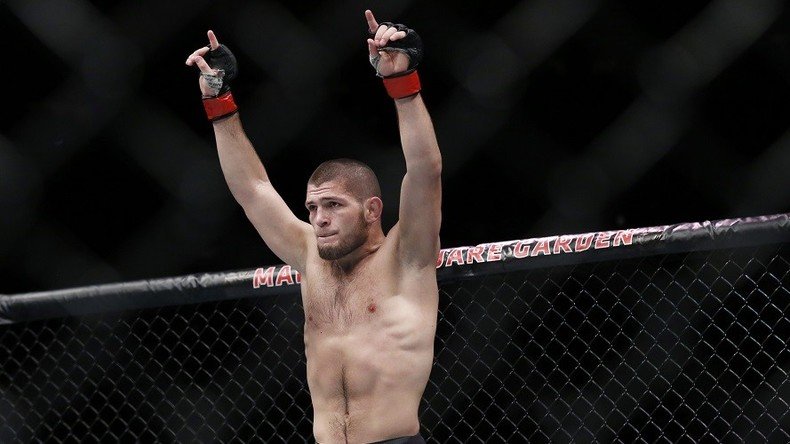 Russian UFC star Khabib Nurmagomedov called Conor McGregor a "chicken" after staking a claim to a shot at the lightweight title with a dominating victory over Michael Johnson at Madison Square Garden.
After a cagey start the fight burst into life around the one minute mark when Johnson landed an overhand left that visibly shook Nurmagomedov.
However, "The Eagle" soon recovered and took the contest to the mat, pounding Johnson with a series of brutal shots, but the American somehow managed to survive to the end of the round.
Johnson started the second round well, tossing out kicks and left hands, but Nurmagomedov soon got in on the striking action with an uppercut-left hook combination.
After failing with one takedown attempt, Nurmagomedov dragged Johnson to the floor once again and began to rain down a series of vicious punches.
Johnson tried to escape but without success as the Russian looked to end the contest, but he was unable to find a finish.
Nurmagomedov started the third round on the front foot, throwing out a hard three-punch combination that visibly rocked Johnson.
Just half a minute into the round, Nurmagomedov got another takedown and relentlessly pounded away at his opponent's head.
Referee John McCarthy gave Johnson every chance to survive, but Nurmagomedov switched to the mount position before applying kimura on the American's left arm forcing him to tap.
The victory moved Nurmagomedov to 24-0 in his career and after the bout he called Conor McGregor a "chicken" before gesturing to president Dana White that he wanted a title shot.
"I want to stay humble but other guys talk too much," said Nurmagomedov.
"Irish only 6 million, Russia 150 million, I want to fight your chicken. What do you say about 24-win streak? Let's go, let's go with your chicken."
You can share this story on social media: