Kovalev & Ward face-off for final press conference before multi-million dollar matchup
Published time: 18 Nov, 2016 15:23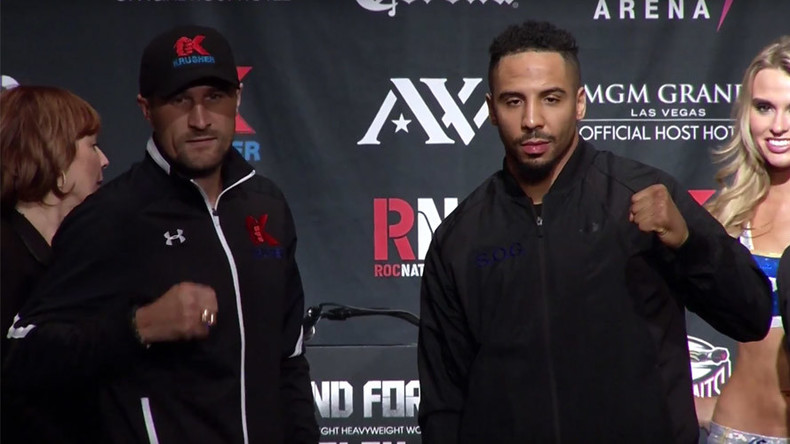 Russian light-heavyweight boxing champion Sergey Kovalev and American challenger Andre Ward have held their final press conference before their world title fight at the T-Mobile Arena in Las Vegas, Nevada on Saturday November 19.
The fight for 'Krusher' Kovalev's WBO, IBF, WBA Super, and Ring magazine titles is being heralded as the biggest event in boxing since Floyd Mayweather Jr. fought Filipino Manny Pacquiao in May of 2015, when Mayweather won by unanimous decision.
Much like that fight, the winner of the Kovalev-Ward bout will most likely be regarded as the best pound-for-pound fighter on the planet.
Purse figures for the fight released earlier by the Nevada State Athletic Commission revealed that Kovalev will receive a guaranteed $2 million prize, while Ward will receive $5 million. However, the fighters' eventual takings are likely to be higher due to TV rights payments.
Former super-middleweight supremo and 2004 Olympic gold medalist Andre Ward took the microphone first and was quick to fire back at what he deemed as pre-fight trash talk from Kovalev's manager Kathy Duva.
"I was off to the side trying to mind my own business and Kathy Duva woke me up. She started talking... It's interesting that the ones that are not [getting] in that ring are doing the most talking.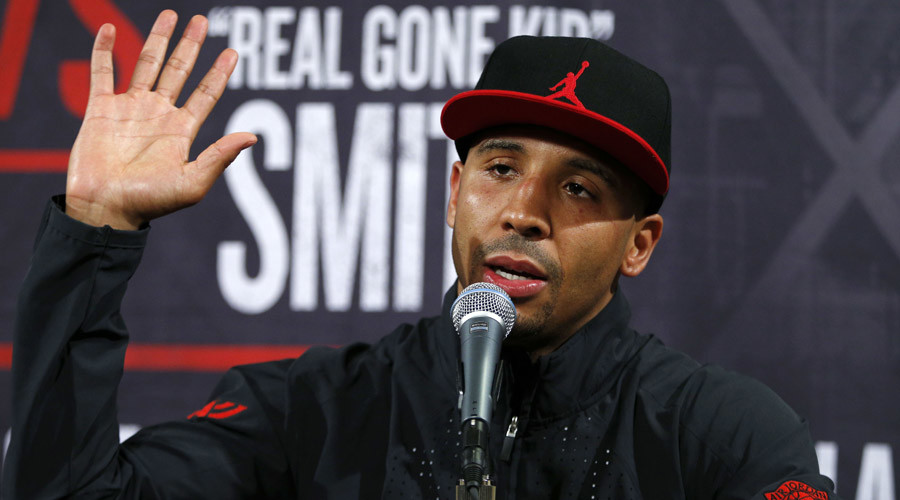 "[My team] get it. We watch; we take notes. But in the meantime we put the work in and then we produce come fight night. That's what we specialize in.
"All the talking is great, I love it. But know one thing: I'm not taking no mess come fight night. I'mma be there," he promised.
After a special Russian introduction delivered by legendary ring announcer Michael Buffer, Kovalev told fans that, although he has respect for Ward's success in the amateur and professional ring, "right now we are facing each other, I should prove that I'm better."
"Maybe two three years ago, I can't even imagine I get to this level and fight Andre Ward undefeated boxer and Olympic champion, gold medalist.
"I very hope that our fight will be very clear and honest and to win the best of us. This fight very excited and a little nervous because I never was on this level. You will see very good fight," he said.
Kovalev, who told Larry King that he wanted to kick Ward's ass in an earlier interview, reiterated his previous contention that the Oakland, California native is a dirty fighter.
"He can punch with elbows and go forward with the head – it's not clean, what I see. It's only my opinion. Clean fight is a clean fight, not hit with elbow punches. It's different; it's not boxing rules," said Kovalev.
READ MORE: 'I want to kick his ass': Sergey Kovalev sends message to Andre Ward in new promo (VIDEO)
However, sportsmanlike respect between the two fighters was still apparent, as the pair did bump fists after a brief staredown to end the final press conference before their showdown.
Both fighters are undefeated going into the fight. Kovalev has 26 knockouts from his 30 professional wins, whereas 'Son of God' Ward has the same number of fights, but 15 knockouts, and will be moving up in weight for the matchup. He is nevertheless considered the favorite, however.