Pacquiao 'fighting for history' against Vargas
Published time: 5 Nov, 2016 14:45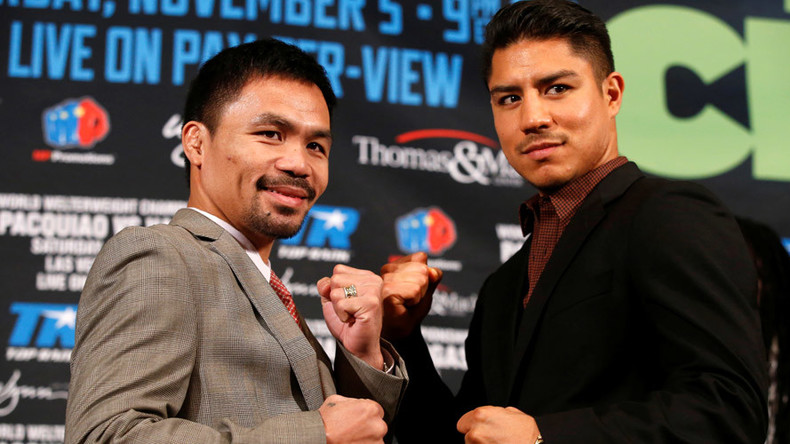 Manny Pacquiao steps back into the boxing ring tonight, where he will challenge Jessie Vargas for the WBO world welterweight title in Las Vegas.
The Filipino star comfortably outpointed Timothy Bradley in his last fight back in April, but has spent the majority of his time since then concentrating on his full-time role as a senator back in his native Philippines.
READ MORE: Pacquiao admits to drug past, but backs Duterte's crackdown in Philippines
In order to properly balance his two jobs, Pacquiao has brought coach Freddie Roach over to Manila from Los Angeles to train him for the fight.
"It took discipline to manage my time effectively – to balance my training camp and my senatorial duties," he said.
"There were some days where I would have to come in later if my work in the Senate demanded I stay longer.
"Between the two 'jobs,' I was averaging 14-hour workdays. Luckily, the gym was very close to the Senate so I didn't have to deal with traffic," he said.
After winning world titles in eight different weight categories and consistently facing top opponents, Pacquiao has little to prove.
Super-lightweight king Terence Crawford and star middleweight Gennady Golovkin have been touted as possible future opponents, not to mention the possibility of a rematch with Floyd Mayweather Jr. – and Pacquiao admits there are still things he wants to achieve.
"I am fighting for history," he added. "I was the first sitting congressman to win a world title.
"For this one, it is not enough to be the first sitting senator to fight for a world title, I want to be the first senator to become world champion. For me, that would be quite an accomplishment.
"I want to prove that I am still one of the best pound-for-pound fighters. I feel I still have a lot to prove. I am not done with boxing.
"I will continue to keep fighting as long as I love boxing and boxing still loves me. I do not feel old – I feel like I am still 27," he said.
While Vargas will have significant advantages in height and reach, Pacquiao's performance in defeating Bradley showed he remains a world-class boxer.
Vargas has only one loss on his CV – a big points defeat against Bradley in June last year – but with only 10 stoppages in 28 fights, he appears to lack the power to trouble Pacquiao.
"Vargas is the champion and he is wearing my championship belt," said Pacquiao. "I want that belt back, which is the reason why we are doing this fight."