Knock it down and start again: Expert on violence-prone London Stadium
Published time: 1 Nov, 2016 16:44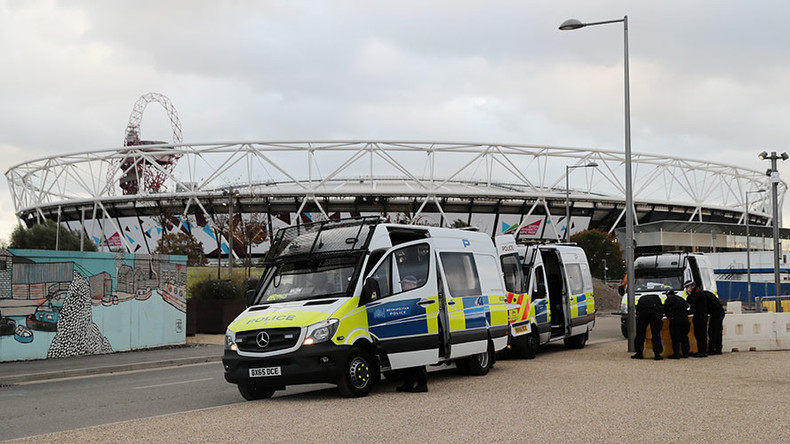 A top sports stadium expert has recommended that Premier League club West Ham's London Stadium be demolished and rebuilt to make the ground more accommodating to football fans.
Paul Fletcher has developed new football stadiums for clubs across England and believes that the London stadium – which was purpose-built for the 2012 Olympic Games – needs dramatic modifications in order to cater for football fans.
"Either we go on as we are for the next 30 or 40 years or we knock [London Stadium] down and start again," Fletcher told the BBC.
"Something has to give. If you want to satisfy spectators the only way to get those spectators near that pitch is to knock it down and start again," added the former Burnley FC striker, who is now an executive.
Fletcher said the ground should have been built for the long-term purpose of hosting football matches but be able to host athletics events for the necessary time.
"When I build my football stadiums, my number one concern is the spectator. What they've done is tried to convert an athletics stadium into a football pitch and, in my opinion, it doesn't work," Fletcher said.
"The building was almost built when they started to talk to West Ham."
"I said what you must do is design a football stadium that converts to an athletics stadium for two weeks of its lifetime," he added.
West Ham won the bid to move into the London Stadium in Stratford from the Boleyn Ground at Upton Park in December 2012; the decision was controversial.
London Stadium hit headlines last week when the EFL Cup game against West Ham and Chelsea erupted into violence inside and outside the ground, with helpless stewards and police citing the vastness of the venue as a contributing factor to the unrest.
The East London club subsequently banned 200 individuals for offenses including abusive language and missile throwing and Metropolitan Police arrested seven individuals.
But the violence during and after the match versus Chelsea wasn't the first time there has been disorder in and around the ground. Fighting also erupted between fans at a cup game against Watford and a league game against Middlesbrough.
READ MORE: West Ham FC accused of discrimination against its own women's team
Ugly scenes involving English football fans were also reported at Old Trafford stadium during the recentl EFL Cup match between Manchester United and Manchester City.
City fans were filmed smashing sinks and toilets inside the ground's restrooms following during their 1-0 defeat to bitter rivals United.