Tyson Fury voluntarily gives up world titles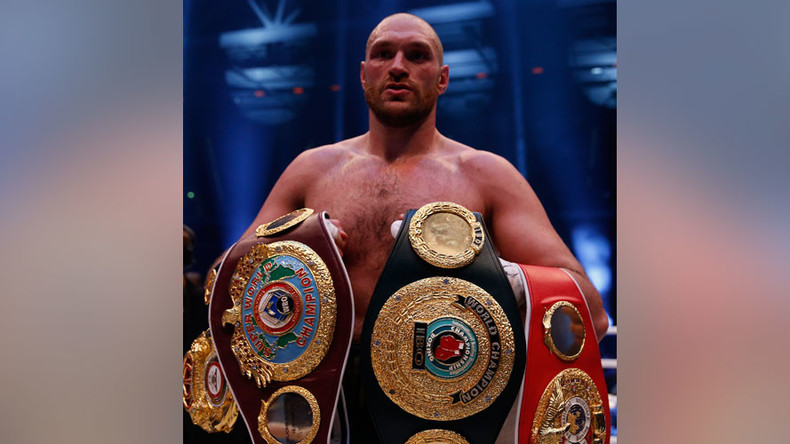 Controversial British boxer Tyson Fury has voluntarily given up his WBO and WBA World Heavyweight titles as he is "medically unfit" to defend them.
The 28-year-old shocked Wladimir Klitschko back in November 2015 to become world champion, but has not stepped into the ring since.
Fury has pulled out of a potential rematch with the Ukrainian twice, with an alleged ankle injury leading to the bout being delayed before the Englishman's latest problems.
The outspoken fighter pulled out of the second proposed Klitschko rematch after it became clear he was suffering from mental health issues. It was also revealed that Fury tested positive for cocaine use.
Fury has released a statement confirming that his titles are now up for grabs.
"I won the titles in the ring and I believe that they should be lost in the ring but I'm unable to defend at this time and I have taken the hard and emotional decision to now officially vacate my treasured world titles and wish the next-in-line contenders all the very best as I now enter another big challenge in my life which I know, like against Klitschko, I will conquer," he said to hennessysports.com.
"I feel that it is only fair and right and for the good of boxing to keep the titles active and allow the other contenders to fight for the vacant belts that I proudly won and held as the undefeated heavyweight champion of the world when I defeated the long-standing champion Wladimir Klitschko."
Fury's decision now means that Klitschko will clash with Anthony Joshua, with the winner to assume the vacant crowns.
READ MORE: Fury mocks cocaine allegations; Klitschko eyes Joshua bout
Negotiations over a venue and date for this clash are underway, with promoter Eddie Hearn trying to arrange the fight for late this year.
The British Boxing Board of Control met earlier this week to discuss Fury's case, with the Brit potentially set to lose his licence due to testing positive for drug use.
You can share this story on social media: