Fury mocks cocaine allegations; Klitschko eyes Joshua bout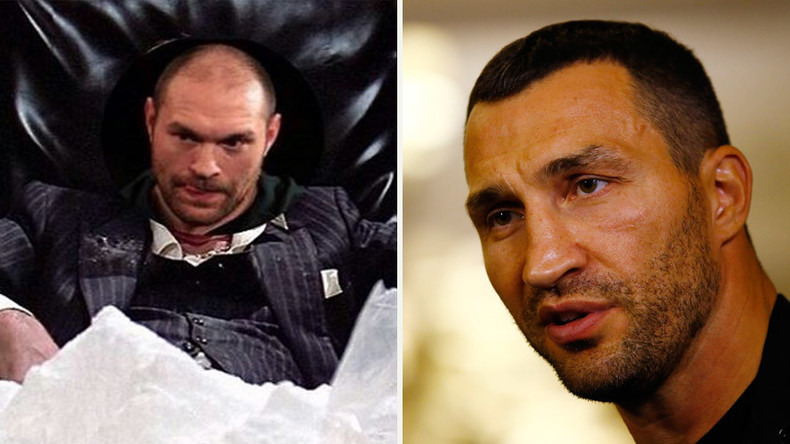 Tyson Fury has taken to Twitter to openly mock his positive test for cocaine by superimposing his head onto the body of Al Pacino's Tony Montana.
Fury shared an image from the Scarface movie, which shows the main character, Tony Montana, sitting in a leather chair with a pile of cocaine on a table in front of him.
Accompanied by the hashtag #Tysonmontana, the tweet is a clear response to reports that the British fighter had tested positive for the substance benzoylecgonine, the central compound found in cocaine, on September 22.
The 28-year-old withdrew from his world heavyweight championship rematch with Wladimir Klitschko, scheduled for October 29, after being declared 'medically unfit' the day after the test.
His camp cited mental health issues, but it emerged on Friday that Fury had actually returned a positive result for cocaine after being tested by the Voluntary Anti-Doping Association.
The results of the test are not fully complete, but if the British boxer's B sample is positive, he might be stripped of his world titles.
With Fury's future up in the air, Klitschko's team has started negotiations with Anthony Joshua to challenge for his IBF title in Manchester at the end of November.
Joshua's promoter Eddie Hearn told the Mirror: "Our plan is to fight Klitschko for all the belts – it might be (that Joshua will fight Klitschko), it's 60-40 yes, something like that.
"Klitschko wants the fight, Joshua wants the fight, so that's a good sign. I'm confident, I think it's the fight to make.
"It's one or two fights before plan, but it's here. He's so relaxed, he'll fight anyone. It's a huge fight. It'll be the biggest fight in British boxing history.
"I'm nervous – the gulf in experience is so wide. It's a classic crossroads fight – the hottest prospect in boxing versus a living legend."
If Fury is stripped of his titles, Hearn is hopeful his belts will be put on the line in addition to Joshua's IBF title.
READ MORE: WBA could strip Tyson Fury of heavyweight belt after 'illness' withdrawal
"The first objective is to make the fight with Klitschko and the decision from the governing bodies on the belts will come after that," added Hearn.
"We've not got a deal yet, but there's definitely a desire from both sides to make the fight happen.
"If there was any doubt about Fury being stripped that has gone after this latest positive test.
"It's just if AJ fights Klitschko, what belts will be on the line? I think every governing body would want to sanction Joshua-Klitschko.
"For me the issue is not if another belt is on the line, it's how many. I think it could be four with the IBO."