Brazilian construction worker killed during dismantling of Rio 2016 Olympic venue
Published time: 9 Oct, 2016 10:11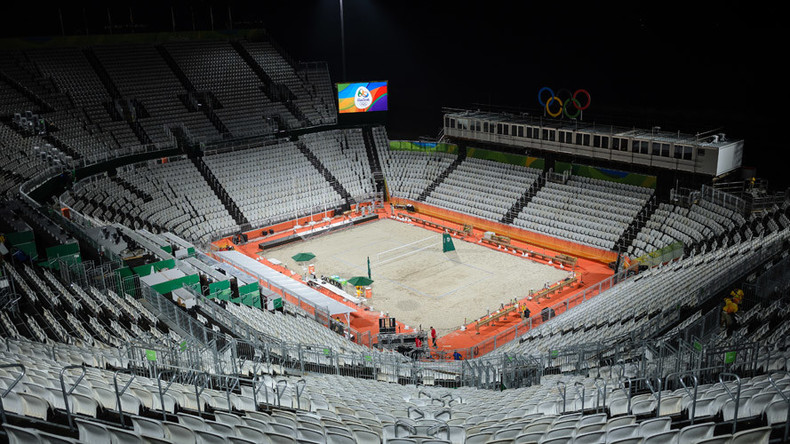 A Brazilian construction worker has reportedly been electrocuted to death following an accident during the disassembly of the Beach Volleyball Arena at Copacabana Beach.
According to a Reuters Brazil source, another worker is understood to have had his leg amputated after the incident.
"The Olympics was a success, but for the future, I fear it may end in tragedy," the source told Reuters.
"I fear that more accidents will occur."
Rio 2016 organizers confirmed the reports to the Brazilian media, but said the companies that hired the contract workers were responsible.
"We had no control over these events - they were at our facilities but the two accidents were outsourced operations," communications director Mario Andrada told the Rio Times.
"The fault is not ours, it is of those who hire employees, either of lower or higher quality."
Brazil's Ministry of Public Works (MPT) hit back at Andrada, saying the organizers must share the blame.
"When you contract a third party, you have to monitor and stay tuned to see if they are complying with the law, hiring less qualified people," MPT prosecutor Viviann Mattos told Reuters.
"In the end, even to the judiciary, there is accountability."
The news is the latest deadly accident to befall Rio 2016, following a series of problems ahead of the event that threatened to derail the Games.
These included an impeachment vote against Brazil's President Dilma Rousseff, a huge corruption scandal, the Zika health crisis and water pollution problems in Guanabara Bay, where the Olympic sailing events were staged.
In May, three months before the Olympics started, a report revealed that 11 people had died while working on Olympic facilities or Games-related projects between January 2013 and March 2016.
While the International Olympic Committee believes the Games leave a lasting legacy in host cities for future generations, Rio 2016 has come in for plenty of criticism locally.
Groups like "The Exclusion Games" and "The Popular Committee for the World Cup and Olympics" protested about the impact on poor people in the city and the waste of public money on unnecessary projects.
"The legacy of the Olympics is overall negative, and they have made the city more exclusionary and unequal," said Giselle Tanaka, who was involved in both groups.
"There was an inversion of priorities, and the real benefactors were a small group of construction companies and landowners linked to Eduardo Paes (Rio's mayor).
"The middle and lower classes were pushed aside. A lot of money was invested in either temporary installations, or to push up the value of land that was empty – like the Olympic Park – while the rest of the city is still left with serious problems with basic sanitation or electricity."