Olympic torch bearer attacked by man with fire extinguisher (VIDEO)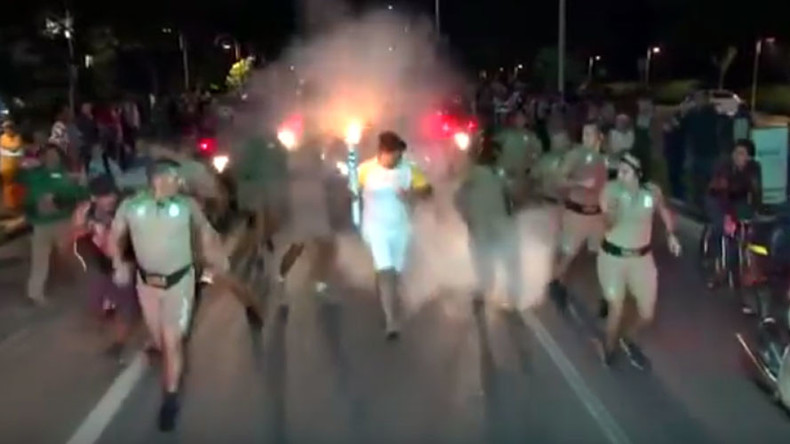 The run up to the Rio de Janeiro Olympics has been far from a smooth journey and things got even more bumpy after a man attempted to put out the Olympic torch with a fire extinguisher during a ceremony in the south Brazilian region of Joinville.
Footage captured the moment the torch bearer was jogging with the Olympic flame, flanked by security personnel, when suddenly a man from the sidelines ran over and sprayed the extinguisher at the flame.
Security staff rushed to protect the torch bearer who was seen coughing after inhaling the fumes as the culprit was tackled to the ground.

The mishap did not result in the flame being quenched, according to Yahoo Sports.
When the next torch bearer arrived to take over, some of the security staff appeared to have taken the attempted sabotage in good humor, while others were clearly somewhat on edge.
In a bizarre sequence, one security guard abruptly maneuvered the new torch bearer into a standing position as he attempted to kneel and light his beacon.
The Rio Games have already been beset by a series of difficulties, ranging from a collapsed cycle track to the Zika virus outbreak, prompting sports stars to pull out.
The latest incident is not the first Olympic torch-related blunder of these Games either. A man was arrested in late June for attempting to throw a bucket of water at the flame, but instead he missed and soaked the torch bearer and security guards.
In the same month, a jaguar used as part of an Olympic ceremony was shot and killed after it escaped from its handlers.
READ MORE: Olympic mascot jaguar shot dead while escaping after Rio 2016 ceremony