Rio Olympics cycle path smashed by wave, killing 2 (VIDEOS)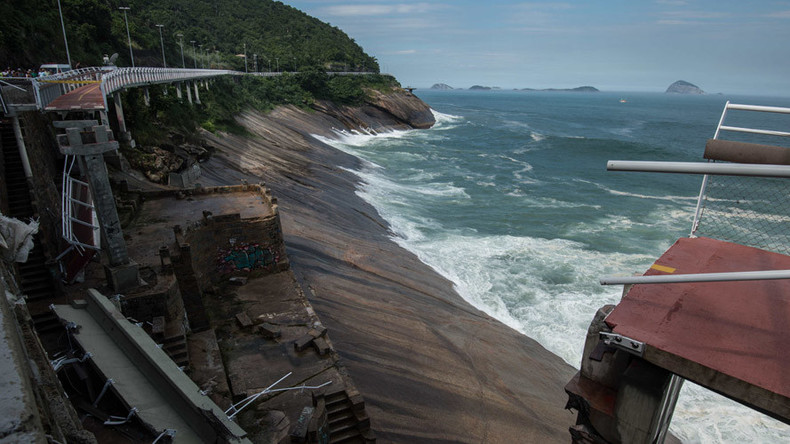 Two people have been killed in Rio de Janeiro after an elevated bike lane, built especially for the Olympic Games this summer, collapsed onto the beach below.
The devastating incident happened after a strong wave hit the Tim Maia Bike Path, breaking off a 150ft (50 meter) stretch of the cycleway.
There were reportedly five people on the path at the time of the collapse. One person who may have been washed into the sea is still unaccounted for, according to Rio Municipal Secretary Pedro Paulo Carvalho, who spoke to Globo News.
The 3.9km (5.5 mile) long path, which opened only three months ago, cost US$12.5 million and links the beachfront neighborhoods of Leblon and Sao Conrado.
Carvalho and Rio's City Hall described the incident as "unforgivable", but said it was too early to determine what caused it. Carvalho confirmed engineers, the Municipal Works, and the company who built the bike lane, Concremat, were being summoned as an investigation gets underway.
Concremat issued a statement on their Facebook page saying the priority for now is to ensure the best care for victims and their families, and to investigate the causes of the accident.
It also stated it "follows all protocols and security standards, using the most modern construction techniques and equipment".
News of the accident came just hours after the Olympic flame was lit in Greece, marking the start of its 15-week journey to Brazil for the opening ceremony of the games on August 5.
The Mayor of Rio de Janeiro, who was in Greece for the ceremony, issued a statement saying he would cut his trip short to return to the city to follow the cycle path investigation.
While the bike lane was never intended to be used by competitors during the Olympics it was among the Games' legacy projects and casts another shadow on the country's ability to host the event.
READ MORE: Rio 2016 and Tokyo 2020 Olympic Games face corruption investigation
This is only the first stretch of the bike path, the second stretch from São Conrado to Barra de Tijuca, is due to be finished by July, according to The Rio Times.
The newspaper reports that the opening of the first part of the cycleway was dogged by criticism over the quality of the work and worries about security.