US anthem protests increase despite police criticism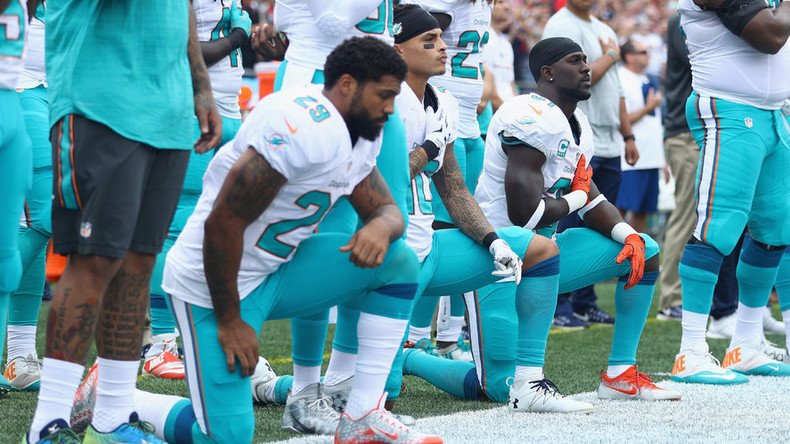 The controversy surrounding the protests during the American national anthem shows no signs of letting up, after another weekend of sports stars making a stand against perceived racial inequality in the US.
Three Miami Dolphins players – Arian Foster, Kenny Stills and Michael Thomas – knelt during the anthem ahead of Sunday's game at the New England Patriots, just days after a local police union hit out at the protest.
Jeff Bell, the president of the Broward County Sheriff's Office Deputies Association, said officers should no longer escort the Dolphins to games if the protests continued.
He also said that NFL players should "give up" their right to free speech while representing their teams.
"I can only imagine the public outcry if a group of police officers refused to stand for the Pledge of Allegiance or if we turned our back for the American flag for the national anthem," said Bell.
"There would be a public outcry and internal affairs complaints a mile long on that.
"I respect their right to have freedom of speech. However, in certain organizations and certain jobs you give up that right of your freedom of speech (temporarily) while you serve that job or while you play in an NFL game."
READ MORE: Police threaten to boycott 49ers NFL games over Kaepernick protests
Foster dismissed Bell's criticism, saying that while he understood people would question the protests, it was important he should be allowed to take a stand.
"They say it's not the time to do this," Foster said. "When is the time? It's never the time in somebody else's eye, because they'll always feel like it's good enough.
"And some people don't. That's the beautiful thing about this country. If somebody feels it's not good enough, they have that right. That's all we're doing, exercising that right."
Initially started by San Francisco 49ers quarterback Colin Kaepernick, the protests have been gathering support in recent weeks, with numerous NFL players choosing to sit or kneel during the anthem.
US women's national team soccer player Megan Rapinoe has also thrown her weight behind the campaign, kneeling during the anthem for the second time in four days ahead of Sunday's game against the Netherlands.
A US Soccer spokesperson confirmed before the match that Rapinoe wouldn't be punished for kneeling before Thursday's game against Thailand, but admitted the situation could be re-assessed if the midfielder continued her protests.
Rapinoe received a mixed response on Sunday, with one fan instructing her to "stand up" as she dropped to one knee.
"Obviously there were boos tonight, boos and cheers tonight. I totally respect that," Rapinoe said.
"People feel a certain way, and I want to be respected for the way that I feel. I think that's their right to do that. I totally understand that. That said, there's some people that support me."
Elsewhere, the Garfield High School football team in Seattle, Washington, showed their solidarity with the protest, with the players and staff all kneeling for the anthem before Friday's game against West Seattle High School.
Garfield head coach Joey Thomas told KING 5 that the players had decided to kneel and will carry on doing so for the rest of the season.
"This came from them - this came from the kids," said Thomas.
"Now don't get me wrong, I support it 110 percent and that's where my mind and heart was, but this is what they wanted. And I think that's what makes this so special. This is student driven."
Having initiated the protests, Kaepernick remains the central figure amongst the people who are aiming to raise awareness of inequality in the US.
He once again knelt during the anthem before the 49ers' game at the Carolina Panthers on Sunday, but his protest received support from a very unlikely source.
Jesse McGuire, who played "The Star-Spangled Banner" on his trumpet prior to the game, admitted he fully backed Kaepernick's actions.
"I absolutely and totally respect his right to protest," McGuire said.
"That's a constitutional right, and anybody trying to take that away from him is trying to violate his constitutional rights.
"In terms of this stance for the violence, that's happening all over the world - and to black males especially.
"I understand and I applaud his stance. Whether I disagree or not is of no consequence whatsoever.
"To protest means that you are going to make waves - so if that is the case, and if that's the definition of a protest, then the desired result of his mission is accomplished."
You can share this story on social media: