More NFL players join US anthem protest on 15th anniversary of 9/11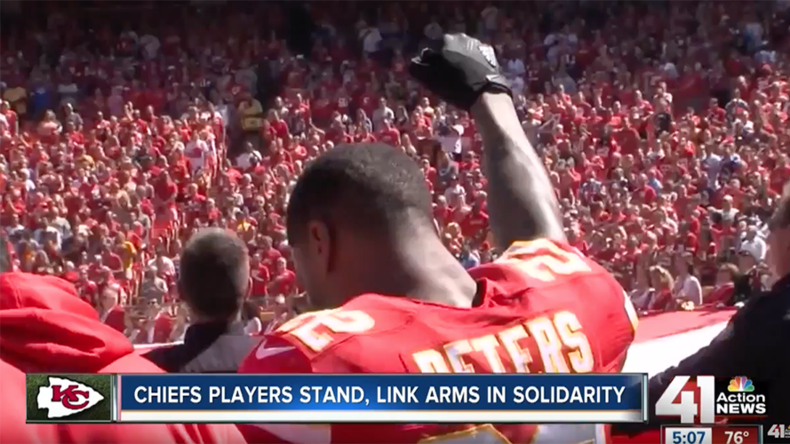 San Francisco 49ers quarterback Colin Kaepernick's controversial protest against racial inequality spread across the NFL on Sunday on the 15th anniversary of the 9/11 attacks.
Several Miami Dolphins players knelt during the playing of the US national anthem on Sunday, while Kansas City Chiefs' cornerback Marcus Peters raised his fist – a mirror of the demonstration by black athletes Tommie Smith and John Carlos during their medal ceremony at the 1968 Olympic Games in Mexico City.
Other members of the Chiefs linked arms during the anthem, as did the Seattle Seahawks at the game in Miami.
"It was our goal to be unified as a team and to be respectful of everyone's opinions, and the remembrance of 9/11," the Chiefs said in a statement.
"It's our job as professional athletes to make a positive impact on our communities and to be proactive when change is needed."
Kaepernick began the protests when he refused to stand for 'The Star-Spangled Banner' during pre-season games, initially sitting on the bench and then later kneeling on one knee in a gesture that has inflamed much of America.
READ MORE: NFL player refuses to stand for US anthem as part of anti-racism protest
He has said he is protesting racial discrimination and police brutality in the US following multiple fatal shootings of black men – mostly by white police officers.
Peters had called for the authorities to address the growing concerns over police behavior on Friday, insisting that action was needed.
"What was going on in law enforcement, it does need to change," Peters said.
"It does need to change for all, equal opportunities for everybody, not just us as black Americans. I don't think nothing is being done about it."
US President Barack Obama has said earlier, that Kaepernick was exercising his constitutional rights by protesting and provoking conversation "around some topics that need to be talked about."
However, the protests have sparked anger in many Americans, who see the actions as disrespecting the military, the US flag and the nation as a whole.
READ MORE: Kaepernick anthem protests spark controversy in NHL
NFL Commissioner Roger Goodell told the NBC he supported the players' right to protest, but that they should also respect those people who have made sacrifices for their country.
"They have rights and we have to respect that," he said.
"I support our players speaking out on issues that need to be changed in society. But that's what the focus should be on, the changes he [Kaepernick] wants to see in the society.
"What I do believe, though, is the respect for our country, the people who fought for those freedoms and values, the people who protect us here and abroad - those are very important. We're a patriotic league."
Kaepernick's 49ers play their NFL season opener against the Los Angeles Rams on Monday.
You can share this story on social media: