Kaepernick anthem protests spark controversy in NHL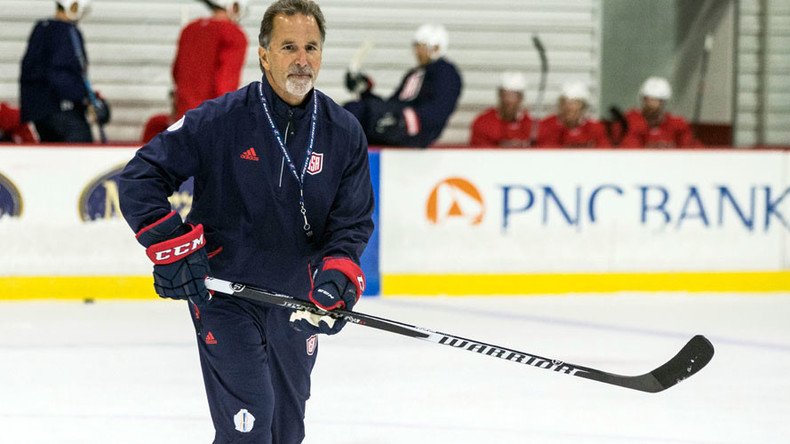 Tampa Bay Lightning forward J.T. Brown has hit out at Team USA Coach John Tortorella over his comments about sports stars refusing to stand for the national anthem – a trend recently set by NFL quarterback Colin Kaepernick.
"If any of my players sit on the bench for the national anthem, they will sit there the rest of the game," Tortorella told ESPN on Tuesday, in response to a question about NFL quarterback Kaepernick's protests about the treatment of minorities in the US.
READ MORE: NFL player refuses to stand for US anthem as part of anti-racism protest

NHL winger Brown took to Twitter to question Tortorella's controversial comments, claiming they proved Kaepernick's point.
The 26-year-old followed up by issuing a statement, saying he bore "no ill will towards John Tortorella" and was merely questioning the validity of his views.
"He sees the situation through his reality and I see it through mine, as a black athlete in the NHL," said Brown.
"I know I'm not on the United States World Cup roster, but I have had a chance to represent my country on other occasions.

"My tweet was hypothetical. What if I took a stance to promote awareness for one of the many injustices still occurring in our country and was punished despite there being no rule or law against it? My tweet was a response to that question."

Brown admitted it would have been easy to keep his opinion to himself, but said that he didn't want young minorities who love the game of hockey to think that what's going on in America today is being ignored by the hockey community.

"I love America and thank the military for protecting our freedoms, as well as law enforcement for protecting and serving our communities, but that doesn't mean I can't acknowledge that there is still racism today," said Brown.

"I am glad my tweet provoked a discussion, because we need to start having a conversation about racism if we want to work towards a better America.

"While I don't plan on sitting during the national anthem, I will look for more opportunities to positively impact my community and bring awareness to racial issues."


When asked whether he stood by his comment, Tortorella seemed shocked by the reaction to it but insisted he would not back down.

"I'm not criticizing anybody for stepping up and putting their thoughts out there about things," he said.

"I'm the furthest thing away from being anything political. No chance I'm involved in that stuff.

"We're in a great country because we can express ourselves. And I am not against expressing yourselves. That's what's great about our country. We can do that.

"But when there are men and women that give their lives for their flag, for their anthem, have given their lives, continue to put themselves on the line with our services for our flag, for our anthem, families that have been disrupted, traumatic physical injuries, traumatic mental injuries for these people that give us the opportunity to do the things we want to do, there's no chance an anthem and a flag should come into any type of situation where you're trying to make a point.
"It is probably the most disrespectful thing you can do as a US citizen is to bring that in. Because that's our symbol.
"I'm all for expressing yourself. That's what's so great. Everybody does. But no chance when it comes to the flag and the anthem. No chance."
One outspoken opponent of Tortorella's words is ESPN pundit Stephen A. Smith, who called them "un-American" and called for Tortorella to be stripped of his duties.
"You are saying that if [Kaepernick] chose to exercise his right as an American citizen you representing the United States would then turn around and punish him for the very rights this country has bestowed upon its citizens?
"If that's not un-American I don't know what is. So as far as I'm concerned the problem is not with Colin Kaepernick. It is with John Tortorella who should be stripped of his title as coach of Team USA unless he changes his stance," Smith said during ESPN show 'First Take.'
You can share this story on social media: