US women's soccer star Rapinoe joins Kaepernick anthem protest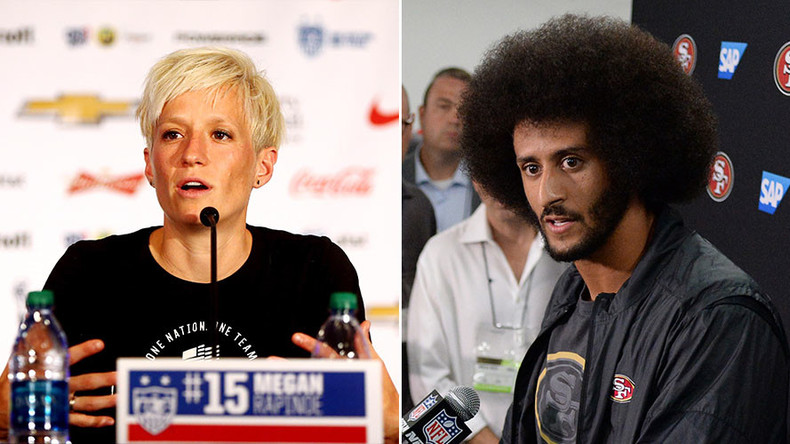 United States women's soccer international Megan Rapinoe became the latest sports star to join Colin Kaepernick's anti-racism protest on Sunday, choosing to kneel during the national anthem before Seattle Reign's NWSL game against the Chicago Red Stars.
Kaepernick's protests against perceived racial injustices have caused controversy across the US, with the San Francisco 49ers quarterback widely criticized for his actions.
His latest refusal to stand for the Star-Spangled Banner came last Thursday when the 49ers played the San Diego Chargers. Teammate Eric Reid joined the protest.
READ MORE: NFL player refuses to stand for US anthem as part of anti-racism protest

Seattle Seahawks cornerback Jeremy Lane also sat for the national anthem at a game in Oakland, and now Rapinoe has added her support to the protests.
"It was very intentional – it was a little nod to Kaepernick and everything that he's standing for right now," she said.
"I think it's actually pretty disgusting the way he was treated and the way that a lot of the media has covered it and made it about something that it absolutely isn't.
"We need to have a more thoughtful, two-sided conversation about racial issues in this country.
"Being a gay American, I know what it means to look at the flag and not have it protect all of your liberties.
"It was something small that I could do and something that I plan to keep doing in the future and hopefully spark some meaningful conversation around it.
"It's important to have white people stand in support of people of color on this.
"We don't need to be the leading voice, of course, but standing in support of them is something that's really powerful."
Rapinoe is one America's highest-profile female players, helping her country to gold at the London 2012 Olympics and World Cup glory in Canada in 2015.
Read more
The 31-year-old is a supporter of numerous LGBT organizations, including the Gay, Lesbian & Straight Education Network (GLSEN) and Athlete Ally – a charity that tackles homophobia in sports.
An increase in racial tension across the US in the wake of a series of police killings and subsequent revenge attacks sparked Kaepernick's protests, with the 49ers star receiving criticism for disrespecting the US and also its military.
However, others have insisted his actions represent the freedom of Americans to express their opinions.
Kaepernick has vowed to continue his protests to raise awareness of equality issues, while he has pledged to donate the first $1 million he makes this year to help communities in need as part of his plan to take a more active role in tackling racial problems.