Police threaten to boycott 49ers NFL games over Kaepernick protests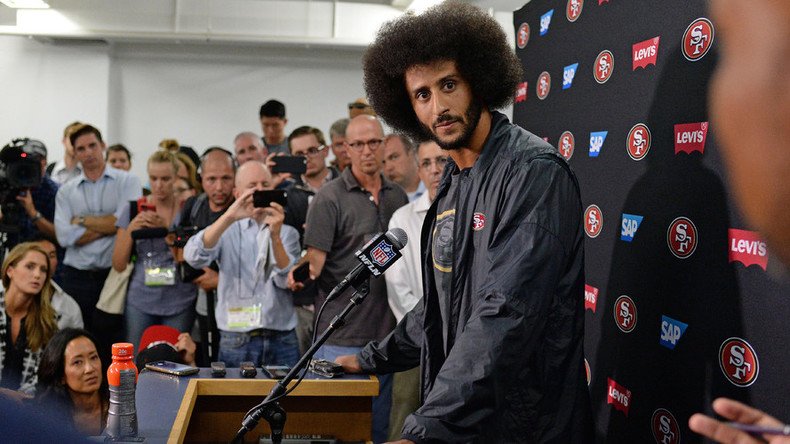 Santa Clara Police Officers' Association (SCPOA) has threatened to boycott San Francisco 49ers home games if they fail to react to comments made by quarterback Colin Kaepernick, who refuses to stand for the national anthem to protest perceived racial injustices.
READ MORE: NFL player refuses to stand for US anthem as part of anti-racism protest
SCPOA penned an open letter to the 49ers in response to remarks made by Kaepernick in reference to his refusal to stand for the national anthem in protest at US race relations.
The association provides security to San Francisco 49ers guests, players and fellow employees at Levi's stadium, the team's training camp and headquarters.
On August 26th, Kaepernick refused to stand for the national anthem at a 49ers home preseason game against the San Diego Chargers at Levi's Stadium in protest against the plight of minorities in the United States.
Addressing the issue in the letter, the SCPOA wrote, "following the game, your employee explained to the media that his actions were an attempt to get public attention to the oppression of African-Americans and minorities in the United States by police officers.
"Your employee then insinuated that police officers are being placed on paid leave for murdering minorities. This statement is obviously insulting, inaccurate and completely unsupported by any facts."
Two days after his refusal to stand, Kaepernick explained his decision.
"There is police brutality. People of color have been targeted by police," which the SCPOA letter denounced as "completely false and insulting to the dedicated men and women in law enforcement agencies across America."
"If the 49ers organization fails to take action to stop this type of inappropriate workplace behavior, it could result in police officers choosing not to work at your facilities."
The letter also took issue with Kaepernick being allowed to wear exposed socks of a pig wearing a police hat during 49ers' practice sessions at a training camp in Santa Clara.



Kaepernick, who was joined in his protest by 49ers teammate Eric Reid and later by Seattle Seahawks player Jeremy Lane, says he will continue his campaign.
The three have divided opinion, with some claiming their actions are disrespectful and misguided, while others support their stance wholeheartedly against alleged injustices.
You can share this story on social media: