McGregor v Diaz 2 likely to set new PPV record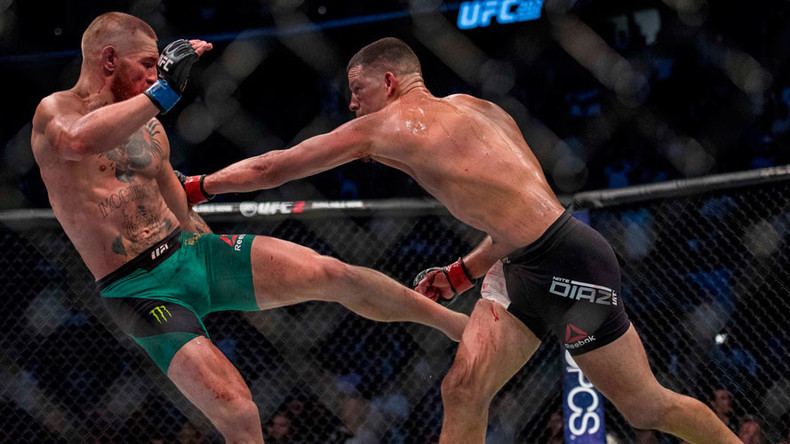 Conor McGregor's revenge victory over Nate Diaz at UFC 202 is likely to be the most successful pay-per-view event in the history of the promotion.
Read more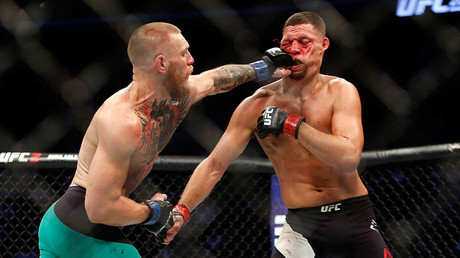 It is being estimated that the welterweight contest garnered 1.65 million pay-per-view purchases, which are priced at $55 each.
That figure is slightly more than the estimated 1.6 million buys for the first meeting between the pair at UFC 196 and the second fight between Brock Lesnar and Frank Mir at UFC 100.
The UFC does not usually release official pay-per-view numbers, but president Dana White did say after the event that it was on course to be the biggest show ever.
Despite the anticipated record PPV numbers, the attendance figures were down by over 2,500 on those present at the recent UFC 200 event.
UFC 202 attracted 14,060 people into the building generating a live gate of $7.6 million, in contrast to the 16,691 who attended UFC 200 at the same T-Mobile Arena which brought in $10.7 million.
McGregor was well rewarded for his success, pocketing a $3 million basic purse, while Diaz collected $2 million.
They also secured an additional $50,000 bonus after the contest was chosen as the Fight of the Night.
However, with both fighters guaranteed a percentage of the pay-per-view sales, their final earnings will be much higher.
The success of UFC 202 means the promotion has broken 1 million pay-per-view buys on three occasions in 2016.
Only a handful of UFC shows have topped that mark, usually headlined by either McGregor, Lesnar or Ronda Rousey.
The spike in interest in the bout was largely fueled by a chaotic pre-fight press conference which descended into an expletive-filled bottle-throwing contest.
With both fighters now holding a victory over the other, the calls for a third meeting are likely to increase although White has said it's unlikely to happen in the near future.
McGregor still holds the featherweight title, but he may be forced to relinquish the belt if he chases a fight with Eddie Alvarez for the lightweight crown.
The first ever MMA event in New York, UFC 205, in Madison Square Garden in November has been touted as possible date for the bout which could potentially top the pay-per-view numbers generated at UFC 202.