'I have Russian spirit, which my opponent has never met' – Yankova on upcoming fight with Arteaga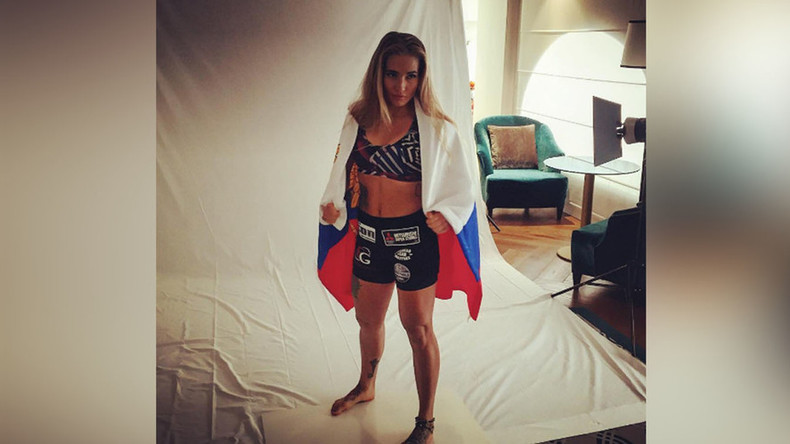 Anastasia Yankova, the rising star of women's MMA, is currently preparing for her second Bellator fight. She meets Veta Arteaga in Cedar Park, Texas, on September 16, and ahead of the bout she shared her thoughts with RT.
Yankova, who is a Russian Thai boxing champion, burst onto the mixed martial arts scene when she turned professional three years ago. Now signed with Bellator, she seems destined for great things in the sport. She was impressive in her Bellator debut, making short work of her less experienced opponent Anjela Pink, winning after just 1:35 minutes of the first round with a submission.
READ MORE: Yankova impressive in Bellator debut
Yankova, who now stands 3-0 in professional MMA, has charmed fans with her beauty, charisma and articulate manner, three things rarely associated with mixed martial arts, the most brutal of contact sports.
While preparing for her next fight against American Veta Arteaga, Yankova told RT about what it's like to train with the world's best and what she sees as her advantage.
RT: Did you find out about your fight date along with everybody else after Bellator made an official announcement about the event? Or did you have a rough idea of which month you would be fighting?
Anastasia Yankova: I flew to Thailand and started a training camp in the beginning of June, and of course I already had an idea about the potential date of my next fight.
RT: Tell us more about how you're preparing for your second fight in Bellator. How do you rate your current physical condition?
AY: I'm preparing the same as for the last fight: in Thailand at the AKA gym with my head coach Mike Swick and jiu-jitsu grappling coach Marcio (Cesar Gracinha). The second phase of training sessions is happening now in San Jose in an American AKA gym run by Javier (Mendez). So I had the chance to acclimatize and condition myself here in America.
RT: Your opponent will be Veta Arteaga – what do you know about her as a fighter? Do you plan to train specifically for her style of fighting?
AY: She's an American. She has two wins from two MMA fights, one of those in Bellator. For those who don't know anything about my opponent and say, that she's a girl for the beating, I want to focus every millisecond, because Veta has a purple belt in BJJ. And I only have a white one. I don't think you have to be reminded how important ground fighting is in MMA, for anyone who doubts that just have another look for instance at the Tate-Holm bout or first McGregor-Diaz fight. But I train with the best team in the world. When you train in one gym with such stars like Daniel Cormier, Luke Rockhold, Khabib Nurmagomedov and Cain Velasquez. And those are only the names you for sure know. Other than those there are a huge number of UFC and Bellator fighters training in the AKA gym. Fighters who have gone through a number of fights in the octagon are giving me advice and helping prepare me for this fight. I just want to say that I don't have a purple belt in BJJ, but I have the best trainer, the best support and Russian spirit, which my opponent hasn't met yet.
RT: Do you follow Bellator in your spare time? How do you like the fights of Michael Page?
AY: Right now I probably don't miss any Bellator tournament, either I watch it on TV or if it's nearby I will try my best to go and watch it. Michael is really cool, absolutely crazy, in a good sense, and a charismatic and talented fighter. He is one of those guys who can put on a show. All of these dances in the cage and sunglasses at a press conference, I really like that style of self-promotion. When it's all combined with talent, hard work and technique, it really makes a fighter with a colorful personality.
RT: Do you have any contact with any of the Russian Bellator fighters?
AY: Honestly speaking, no. I've met Aleksandr Shlemenko, Vitaly Minakov and Andrey Koreshkov, but I can't say that we stay in touch.
READ MORE: Koreshkov dominates Henderson at Bellator 153
RT: Shlemenko recently proved wrong doping allegations against him. And now he's coming back. What do you think about that?
AY: It was a really strange situation, but I am glad that this spectacular Russian puncher is now back in the game.
READ MORE: Russian MMA star Shlemenko cleared to fight again after court lifts ban
RT: Who do you think will have better chances in a potential fight between Michael Page and Andrey Koreshkov, who is the welterweight champion now in Bellator?
AY: That's a difficult question. I don't like to make any predictions in MMA, where anyone can quickly and completely unexpectedly end a fight at any moment. But for me, it is one of those fights that I definitely won't miss.