Koreshkov dominates Henderson at Bellator 153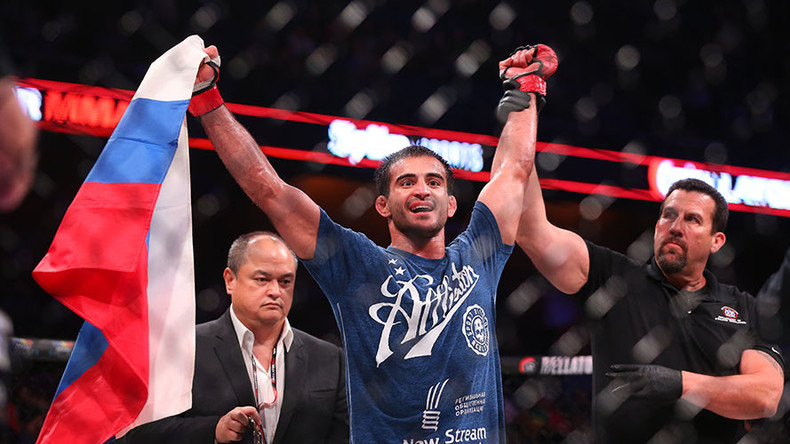 Bellator 153 saw a successful welterweight title defense for the Russian Andrey Koreshkov as he convincingly beat UFC crossover Benson Henderson by unanimous decision after dominating him for five rounds.
Henderson, a former UFC lightweight champion, was on the back foot from round 1 as Koreshkov closed the distance and twice walked him into the corner and knocked him off balance. A flying knee by Koreshkov closed out the round, with the champ comfortably in front on the board.
The second round saw Henderson allowing himself to be shepherded into corners while attempting takedowns that Koreshkov kept shrugging off. It is a high-risk strategy at the best of times, but with Koreshkov content to take a few body hits and Henderson unable to bring the champ down, the fight needed Henderson to raise his game.
Henderson's strategy was marginally successful in the next two rounds as he first went for an ankle pick in round 3 and which Koreshkov was eventually able to negotiate his way out of. Henderson's next attempted takedown had Koreshkov sprawling on the floor, but Henderson was unable to finish off the champ and round 4 ended with Koreshkov in absolute control, putting in a front headlock and then a front choke on Henderson, before the challenger squirmed free at the end.
With Koreshkov winning on the board, the final round was Henderson's last chance for a knockout or takedown – and Koreshkov was ideally suited to sit back and defend his position. Henderson attempted multiple takedowns, each more desperate and wilder than the last, and each time Koreshkov either blocked or countered his way out, landing body shots and moving out of range. There was no Miesha Tate-finish to the fight, with Henderson's final desperate – and failed – takedown attempt a defining image of the bout.
Bellator 153 Official Results
Main Card
Andrey Koreshkov defeats Benson Henderson by unanimous decision (50-45 x3)
Patricio Freire defeats Henry Corrales by submission (guillotine) R2 4:09
Evangelista Santos defeats Brennan Ward by submission (heel hook) R1 0:30
Brent Primus defeats Gleristone Santos by split decision (28-29, 29-28 x2)
Michael Page defeats Jeremie Holloway by submission (toe-hold) R1 2:15
Preliminary Card
Mike Zichelle defeats Joe Cronin by submission (rear-naked choke) R1 1:25
Chris Honeycutt defeats Matt Secor by unanimous decision (30-25, 30-27 x2)
Djamil Chan defeats Richard Patishnock by TKO (punch) R1 3:09