Russian MMA star Shlemenko cleared to fight again after court lifts ban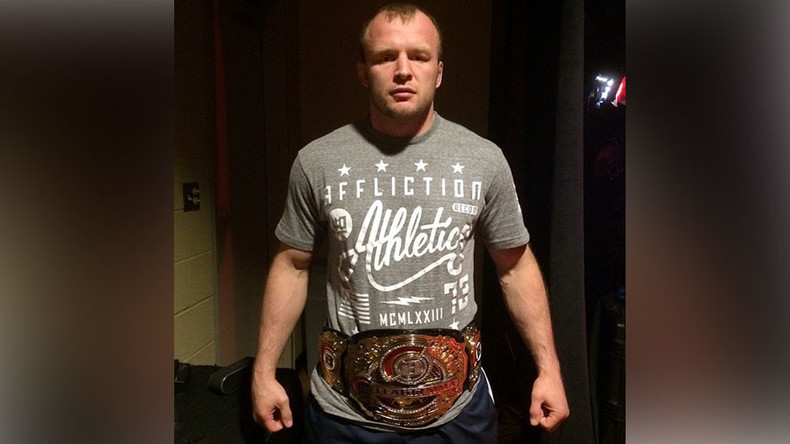 Bellator's four-time middle weight champion Alexander Shlemenko has been cleared to fight again in the United States after a successful court appeal.
The California State Athletic Commission (CSAC) had originally banned Shlemenko for three years and fined him $10,000 after he tested for positive for use of oxandrolone back in February 2015.
Shlemenko, who has an impressive MMA record of 53 wins and only nine losses, beat Melvin Manhoef by second-round knockout in February 2015, but a fight night sample 'A' showed high levels of a banned substance in his system.
The fight result was therefore announced as a no-contest, adding a new line to Shlemenko's professional record.
California's Superior Court ruled that CSAC could only suspend the fighter until his license expired back on February 28.
The former Bellator middleweight champion will also have to pay only a $5,000 fine and his suspension will be lifted as soon as this is paid.
"I am very happy to have this chapter behind me and am grateful to the US court system for finding error with the CSAC findings and allowing me to immediately resume my career in the US," Shlemenko said.
"By ruling that I am immediately eligible to fight, the court specifically found that the CSAC violated basic due process rights.
"I hope that CSAC will now listen to the court, and start treating those who choose to fight in California more fairly."
Shlemenko's attorney Howard Jacobs argued that his client had been unfairly given a three-year suspension when the original notification sent to him by CSAC said he only faced a one-year ban.
The court agreed that CSAC could not legally increase the length of the sanction after the appeal process.
The 32-year-old was initially fined $10,000, half of which was for allegedly making false statements on drug-testing documents.
Jacobs argued that the commission rules state that fines can only be issued if an athlete makes false statements on a license application.
The court agreed and deducted $5,000 off the original fine, but rejected claims that the CSAC had been biased in its process after refusing to test a 'B' sample.
Executive officer Andy Foster said the CSAC was pleased with the court's decision.
"The court ruled that CSAC is not required to collect a 'B' sample in order to prove the presence of banned substances," he said.
"In addition, the court found that Shlemenko failed to demonstrate that CSAC was biased during the proceedings against him.
"CSAC proved its case in court and demonstrated that Shlemenko violated the rule regarding a positive test for a banned substance.
"We understand the court's decision to reduce the fine and suspension period for procedural reasons - that in no way takes away from the seriousness of Shlemenko's offence."
Foster also confirmed Shlemenko has not yet paid his fine and does not currently possess an active license to fight in California, although the Russian is already eyeing a return to action.
"I maintain my innocence and believe had a 'B' sample been tested this process would not have been necessary and my victory over Melvin Manhoef would had been validated," he said.
"Now it is time to look forward to resuming my career and regaining my Bellator belt."