Double standards? Top British cyclist wins anti-doping rule appeal, critics question decision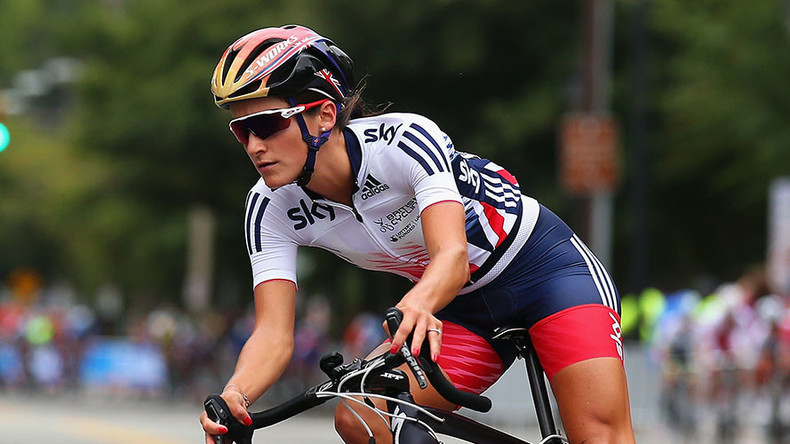 World road cycling champion Lizzie Armitstead has been cleared to compete at the 2016 Olympic Games in Rio after successfully winning an appeal against an anti-doping rule violation, with the decision sparking criticism.
The British rider missed three drugs tests in a 12-month period, but one of them has now been declared void.
Armitstead, who is one of the favorites to win gold in the women's road race in Rio, faced a two-year ban if her appeal had failed.
Olympic gold medal winning rower Zac Purchase and respected journalist Matthew Syed both criticized the decision on Twitter, questioning whether Armitstead had been treated differently because she wasn't Russian.
UK Anti-Doping charged Armitstead on July 11 with three 'whereabouts' failures – two during 2015, with the third a missed test on June 9 this year following "an emergency change of plans due to a serious illness within her family."
READ MORE: 'Inhumane': Backlash over possible ban on Russian Paralympic team
Armitstead did not contest the second two faults, but successfully appealed to the Court of Arbitration for Sport (CAS) over the first missed test, which happened at a team hotel in Sweden.
"I have always been and will always be a clean athlete and have been vocal in my anti-doping stance throughout my career," Armitstead said in a statement.
"I am pleased that CAS has accepted my position, having provided detailed information demonstrating the situation around my strikes."
It's understood the UKAD official failed to explain to hotel staff why he wanted to know Armitstead's room number at her team hotel when attempting to conduct the test.
Having been refused the information by the hotel, he tried to contact Armitstead on a mobile phone which was on silent while she slept.
It appears no further attempts were made by the official and a missed test was registered with UKAD.
"This issue was one of administration and was the result of UKAD not following proper procedure nor fully attempting to make contact with me despite clear details being provided under 'whereabouts,'" added Armitstead.
"I was tested in competition the day after this test (in August 2015), reinforcing my position that I do not cheat and had no intention of not being tested.
"I think that there should be clearer guidelines for those administrating tests and would like to work with UKAD going forward to explore how this can be better addressed in the future so no other athlete is put in this position.
"Meanwhile, I hope that UKAD can now return to the important job of making sure all athletes are clean and that Rio is the clean Olympics that we all want.
"I understand how important it is to be vigilant in my role as a professional athlete and realise the potential implications this could have had.
"I would like to thank British Cycling and the team around me for all of their help and support.
"I am very much looking forward to putting this situation behind me and firmly focusing on Rio again after what has been an extremely difficult time for myself and my family."
UKAD confirmed Armitstead did not query the first missed drugs test until her place in Rio was under threat.
She was given the opportunity to challenge that missed test, raising questions as to why she waited until the third before doing so.
Nicole Sapstead, chief executive of UKAD, said: "Ms Armitstead chose not to challenge the first and second whereabouts failures at the time they were asserted against her.
"At the CAS hearing, Ms Armitstead raised a defense in relation to the first whereabouts failure, which was accepted by the panel.
"We are awaiting the reasoned decision from the CAS panel as to why the first whereabouts failure was not upheld.
"The collection of whereabouts information plays a key role in delivering a robust anti-doping programme.
"Knowing where an athlete is, and what their movements are, is a vital component of our intelligence-led testing programme and ensures that effective and unannounced out-of-competition testing can be conducted at any time, in any place, 365 days a year."
Other British athletes have suffered at the hands of the 'whereabouts' rule, most notably former 400m Olympic champion Christine Ohuruogu, who was suspended for 12 months in 2006 after missing three tests.
Top distance runner Mo Farah went into London 2012 only one failure away from a possible ban after two whereabouts failures.