IOC: 3-person panel to take final decision on which Russian athletes go to Rio
The International Olympic Committee announced on Saturday a special 3-member commission would have a final say in determining which Russian individual athletes are eligible for Rio Olympics. The panel will look into cases of each athlete already cleared to compete.
READ MORE: Weightlifting federation bans Russian team from Rio Olympics
Read more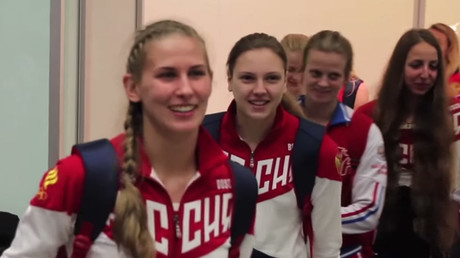 "This panel will decide whether to accept or reject that final proposal," said IOC spokesman Mark Adams, while specifying that it is to include Juan Antonio Samaranch, former IOC president from 1980 to 2001; Uğur Erdener, the head of the IOC Medical Commission; and Claudia Bokel, IOC Executive Board Member and Chair of the IOC Athletes' Commission.
"It is important the IOC takes the final decision based on independent advice," he added, stressing "there is not a blanket decision. It is about individual athletes."
To ensure that no tainted athlete takes part in the games, the panel is expected to primarily take into account the opinion of the arbitrators from the Court of Arbitration for Sport (CAS),

It will reach its final decision on each athlete by August 5, the start of the Olympics, and Adams stressed that should any of the athletes be rejected, they will not be replaced.
Adams also stated that if the CAS ruled to overturn the International Weightlifting Federation's blanket ban on all Russian weightlifters, the IOC would consider lifting it.
Last week, the IOC refused to ban the whole Russian Olympic team from the games, contrary to the recommendation of the Word Anti-Doping Agency (WADA), which advocated an indiscriminate punishment for all Russian athletes, citing allegations of a state-sponsored doping system made in an independent report commissioned by WADA to Canadian sports lawyer Richard McLaren.
READ MORE: Russia misses out while drug users take their place in Rio