French police deploy tear gas & water cannon on feuding Polish football fans (PHOTOS, VIDEOS)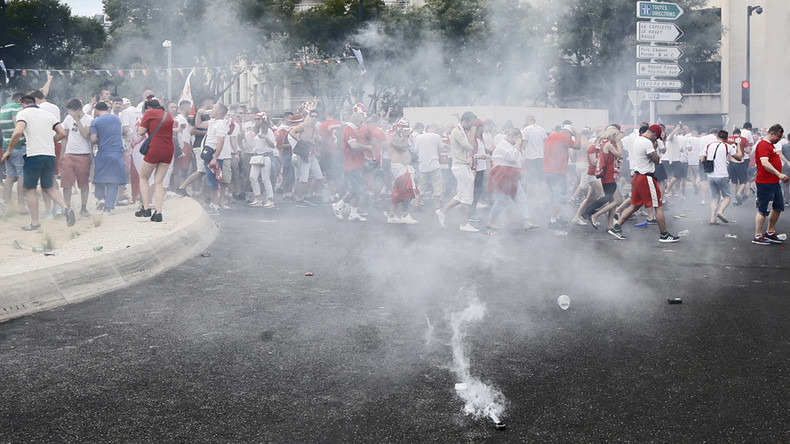 French police deployed tear gas and water cannon during a fight between Polish football fans in Marseille. The scuffles were the latest in a string of violence taking place during the Euro 2016 tournament.
LIVE UPDATES: Euro 2016 football championship in France

Thousands of Polish fans marched through the streets of the city's Vieux Port district ahead of the Tuesday match with Ukraine, letting off smoke bombs, burning flares, and chanting.
Some hardcore fans were seen carrying banners which read "Defenders of European culture." According to Twitter user @fabianeberhard, the fans were also singing a song which had the lyric "F**k refugees."
Several people were handcuffed and detained, police told Reuters, adding that the fights involved rival Polish hooligan groups.
Anticipating potential trouble, Marseille authorities deployed around 1,000 police and 200 private security agents for the match. A surveillance helicopter hovered over the fan zone close to the stadium.
The violence is the latest in a series of scuffles between fans attending the Euro 2016 championship.
Disciplinary cases have been launched by UEFA against Belgium, Portugal, and Turkey due to the behavior of each country's supporters, and the Russian Football Union has been handed a €150,000 (US$169,900) fine and a suspended disqualification. Hungary's football federation was fined €65,000 ($73,000) on Tuesday.
Three Russian fans were jailed for up to two years by a French court for their role in clashes that took place in Marseille, and authorities announced that 20 Russians were being deported from the country.