UFC boss White denies company is for sale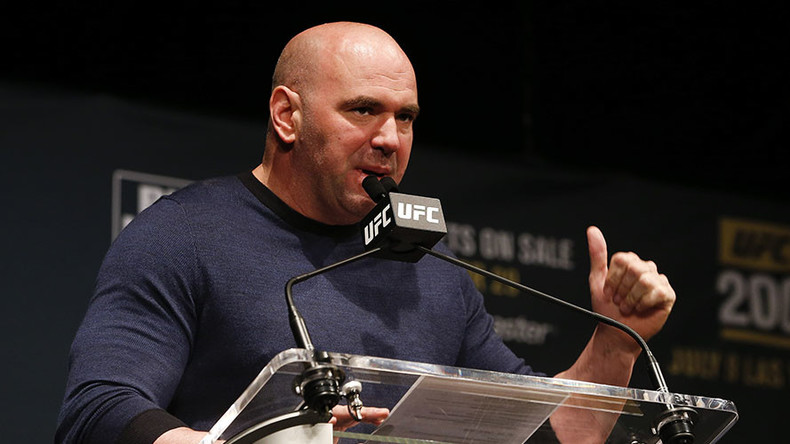 UFC President Dana White has denied the company is for sale, despite an ESPN report claiming otherwise.
ESPN's Darren Rovell said that four companies – WME/IMG, China Media Capital, The Blackstone Group and Dalian Wanda Group – have placed bids of between $3.5 billion and $4 billion.
READ MORE: UFC could be sold for $4bn to Chinese investor
"The UFC is not for sale," White said. "The ESPN story is overblown. Darren Rovell is not a fan of facts. His facts could not be further off."
Rovell hit back on Twitter, saying he had five different sources confirm his story.
Frank and Lorenzo Fertitta currently own 81 percent of the company while Flash Entertainment, a subsidiary of the government of Abu Dhabi, owns 10 percent.
White, who owns the other 9 percent, purchased the UFC with the Fertitta brothers for $2 million from Semaphore Entertainment Group in 2001.
Rovell reported that Goldman Sachs, which served as the company's investment adviser when Flash bought in during 2010, was representing the UFC in sales talks.
READ MORE: Have McGregor and Rousey suffered at the hands of UFC?
While ESPN's story suggests the entire company is being sold, it is possible that White and the Fertitta brothers may be looking to bring another partner on board, given they have done so previously.
MMA Fighting's Ariel Helwani appeared to back Rovell's story, tweeting that China's Wanda Group was leading the race to buy the UFC.
I was told last week that China's Wanda Group was the current front-runner in these talks and the sale could be announced as soon as July.

— Ariel Helwani (@arielhelwani) May 11, 2016
According to Forbes magazine the Wanda Group's chairman, Wang Jianlin, is the richest man in China, worth nearly $35 billion.
Wanda has recently been expanding its portfolio of investments into sport.
In 2015 the company bought a 20 percent stake in La Liga's Atletico Madrid for a reported $48 million, while earlier this year it signed a deal as a FIFA partner until 2030.
The UFC's revenues have grown at a staggering rate over the past 15 years, with Forbes reporting in March that the company was well on its way to becoming a $3 billion enterprise, compared to just $4.6 million in 2001.