RT surges after X (aka Twitter) removes censorship – 'disinformation' lobbyist
NewsGuard has accused Elon Musk of "pushing propaganda" after buying the platform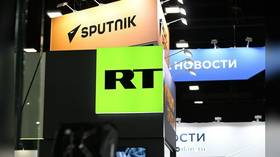 NewsGuard, a self-proclaimed disinformation watchdog, has lamented the rise in popularity of RT and 11 other news outlets after Elon Musk relaxed censorship on X (formerly Twitter).
Among 12 media accounts analyzed, RT experienced the highest engagement growth in the 90 days following Musk's decision in April to remove 'government-funded' and 'state-affiliated' labels from certain outlets, NewsGuard said on Tuesday. The number of 'likes' and reposts for RT's account increased to 2.5 million in the period studied, up from 1.3 million.
The analysis focused on Chinese, Iranian, and Russian media outlets, which NewsGuard branded "state-run disinformation sources" and purveyors of "propaganda."
NewsGuard cited political memes posted by Iranian news accounts as purported examples of disinformation. Another instance was supposedly a link shared by Iran's PressTV to an article on remarks made by US presidential hopeful Robert F. Kennedy Jr., who argued that Americans "created" the Islamic State terrorist group. Kennedy made the claim during an election rally in Boston, where he accused Washington of decades of misguided foreign policy.
The self-described disinformation watchdog advocates imposing strict moderation on online platforms to protect users from supposed foreign influence. NewsGuard's rating of news outlets generally labels mainstream Western media as trustworthy, while outlets linked with governments opposed by the US are branded deceitful.
Among NewsGuard's advisers is Michael Hayden, a former head of the CIA and the NSA. He was notably one of the more than 50 former intelligence officials who claimed in 2020 that the factual New York Post story about Hunter Biden's laptop had "all the classic earmarks of a Russian information operation."
Others include former NATO Secretary General Anders Fogh Rasmussen, former US Secretary of Homeland Security Tom Ridge, and former US Under Secretary of State Richard Stengel. The latter stated publicly that his job in the Obama administration was jokingly described as "chief propagandist" by others.
The Pentagon and Microsoft have contracted NewsGuard services.
The report heavily implied that the lack of X labels for the likes of RT was to blame for the rise in engagements, as it is now "impossible for users to know whether an account is government-affiliated" simply by looking at posts.
NewsGuard claimed that the 12 accounts in question are attempting to conceal their associations, such as when RT rebranded from its previous name Russia Today. The report described the move as taking place "several years ago," although the rebranding was implemented in 2009.
Musk, who formally stepped down as CEO of X (then Twitter) in June, ordered the 'government-funded' and 'state-affiliated' labels to be removed amid a row with America's NPR, which exited the platform after being branded. Around the same time, X ended its 'shadow-ban' on RT and others, lifting a restriction imposed under the previous executive leadership.
The subsequent publication of the 'Twitter Files' has detailed extensive US government oversight and pressure on the social media company to amplify Pentagon talking points over dissenting voices.
NewsGuard conceded that Musk's move to end restrictions on X, which it described as "pushing" undesirable accounts, may have benefited them.
In August, NATO's Strategic Communications Center of Excellence blamed Musk for a "dramatic rise" in the visibility of Russian government and media accounts.
You can share this story on social media: