Pro-American German tabloid 'alarmed' over RT's influence
A significant percentage of the country's population appears to support "pro-Russian" narratives, Bild reports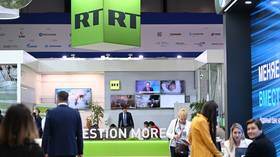 Russia is gaining clout over German public opinion, Bild reported on Monday. It added that RT's German-language news service, RT DE, is playing a central role in this process.
The tabloid itself is openly pro-American and criticism of US foreign policy is largely absent from its pages. Furthermore, it forces its employees to sign a declaration pledging to support the 'transatlantic alliance.'
Germans appear to be particularly susceptible to Moscow's "propaganda," according to Bild, which added that experts in the West are "alarmed" over this development.
The tabloid then blamed this tendency on the "historically friendly relations" between the two nations, as well as the "legacy" of East Germany, which was once a part of the "socialist camp" and "a large number of Russian-speaking people" living in Germany nowadays. The paper then admitted that pro-Russian views have been spreading both among native Germans and the Russian-speaking part of the population.
The Russian media, such RT DE and SNA – the German-language version of the Sputnik news agency – play a key role in this, Bild said, citing a report by the Center of Information Resilience (CIR), which is a group of "open source investigators" funded by the UK Foreign Office and the US State Department among others. Reports published by RT DE then find their way to "many German websites," Bild reported.
Germany's 'Center for Liberal Modernity' (LIBMOD) think tank even dedicated a lengthy analytical paper to RT DE's role in modern Germany as part of its Adversary Analysis project funded by the German Family Affairs Ministry. There, it said RT DE was playing a "special role" in Germany as a "kind of a leading medium" at the center of a vast network of other like-minded news media outlets.
A survey carried out by Berlin Center for Monitoring, Analysis and Strategy in November 2022 showed that one in five Germans agreed that Moscow had no other choice but to respond to NATO "provocations" by launching a military operation in Ukraine, the paper said. Another 21% of respondents "partly agreed" with this statement, it added.
Over 40% of Germans either partly or fully supported Russia's position on the ongoing conflict, the report said, adding that the Russian narrative "fell on fertile ground" in Germany. The think tank then admits that RT DE relies on a vast network of authors, including German journalists, working for other "alternative media" and covers a broad spectrum of high-profile issues ranging from the refugee crisis to the Covid-19 pandemic and ongoing conflict in Ukraine. That makes RT DE stand out from other "alternative media," which usually focus on a specific narrow topic, the Adversary Analysis added.
"RT DE has put itself at the forefront of a whole series of 'alternative media' that agitate against the alleged 'corona dictatorship' and the 'lying press'," the report said, adding that RT DE has "the largest overlaps in terms of content and personnel" with some other German media portals that adhere to the "tradition of Ostpolitik [East Policy] relying on a dialogue and cooperation with Russia."
You can share this story on social media: