Ukraine to replace defense minister – lawmaker
Aleksey Reznikov is expected to be reassigned following a corruption scandal in the military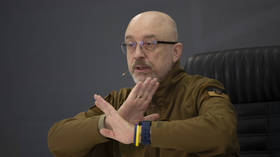 Ukrainian Defense Minister Aleksey Reznikov will be relieved of his duties and instead appointed minister for strategic industries, according to David Arakhamia, parliamentary faction head of President Vladimir Zelensky's political party. The planned reshuffle follows multiple corruption scandals and resignations by other officials, including Reznikov's deputy.
The chief of the Ukrainian Intelligence Directorate (GUR), Kirill Budanov, "will head the Defense Ministry, which is absolutely logical in wartime," Arakhamia announced in a Telegram post on Sunday night.
Arakhamia did not offer a timeline, but according to the RBC-Ukraine news agency sources, the parliament is expected to finalize the reshuffle during the next session.
Asked about his rumored dismissal on Sunday, Reznikov said that it was up to President Zelensky to decide his fate, but he was "ready for anything" and his conscience was "absolutely clear."
Multiple senior Ukrainian officials have resigned or have been fired in recent weeks, some in relation to an alleged graft scandal affecting the Defense Ministry. According to a Ukrainian media investigation published last month, various foodstuffs for the military ended up costing several times more than average retail prices.
Reznikov has dismissed the allegations, stating that the documents cited in the investigation were inaccurate and some prices ended up inflated due to a "technical error." However, Deputy Defense Minister Vyacheslav Shapovalov, who was in charge of logistics, took the fall and was dismissed on January 24.
The situation also threatened Reznikov, one of the most prominent faces in the Ukrainian defense apparatus, but the profile committee of the Verkhovna Rada of Ukraine decided to keep him in office at the time.
Arakhamia said on Sunday that Reznikov is the most "logical" candidate to head the Ministry of Strategic Industries, given his "expertise" in securing Western military aid at Ramstein Air Base meetings and directing the endless flow of weaponry for the Ukrainian army.
Reznikov, however, claimed he had not heard anything about the new appointment, and would reject the offer even if it came from the president himself, arguing that he is not qualified for the job, according to ICTV Facts.
Budanov, who is tapped to become the new defense chief, is best known for his veiled threats of more strikes and terrorist attacks deeper into Russian territory, while refusing to confirm or deny Ukraine's responsibility for previous strikes inside Russia. In October 2022, Russia's Federal Security Service (FSB) called Budanov a suspect behind the car bombing attack on the Crimean Bridge, which killed three people.
You can share this story on social media: