Ukrainian intelligence chief threatens attacks in Russia
Kirill Budanov refused, however, to take responsibility for previous strikes on the Crimea Bridge and airfields inside Russia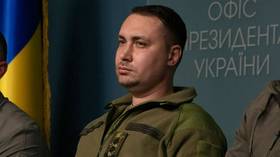 Russia will continue to experience "problems" until it withdraws from Ukraine and restores the country's territorial integrity, Kiev's top intelligence official, Kirill Budanov, warned in an interview with the Washington Post on Tuesday.
The Ukrainian Intelligence Directorate (GUR) chief added that Kiev currently has people planting explosives on the territory of Russia, and hinted at a potential string of terrorist attacks in the country in the near future.
Asked about his involvement in the attack on the Crimean Bridge in October and the two drone attacks on Russian air bases in December, Budanov refused to confirm his special forces were behind the strikes. He did, however, warn that there would be more attacks of that nature.
"This shattered their illusions of safety," Budanov told the Post. "There are people who plant explosives. There are drones. Until the territorial integrity of Ukraine is restored, there will be problems inside Russia."
He also issued a warning to the Kremlin, stating that there are Ukrainian collaborators in its midst –"people who are very easy to work with" and who Kiev actively supports.
Budanov went on to insist that Ukraine must "do everything to ensure that Crimea returns home by summer" and dismissed suggestions that Moscow could use nuclear weapons if Kiev's troops reach the peninsula, which officially joined Russia following a referendum in 2014.
"It's a scare tactic," he said. "Russia is a country that you can expect a lot from but not outright idiocy. Sorry, but it's not going to happen. Carrying out a nuclear strike will result in not just a military defeat for Russia but the collapse of Russia."
Moscow, meanwhile, has insisted that Crimea is part of Russia and warned that it would respond to any threats to its territory with "more powerful weapons."
Earlier this month, Duma chairman Vyacheslav Volodin also cautioned that a "global tragedy" could be in store for humanity if the West continued to arm Ukraine with weapons that Kiev could use to strike civilian cities and attempt to seize Russian territories.
You can share this story on social media: