Reshuffle in Kiev amid scandals
Zelensky's deputy chief of staff is among the Ukrainian officials who have lost their positions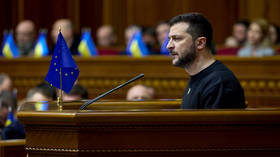 Kirill Timoshenko has resigned as deputy head of Ukrainian President Vladimir Zelensky's office, after the head of state pledged to shake up the government.
The reshuffle, which the president announced in his daily video address on Tuesday morning, will affect officials "on different levels, in ministries and other bodies of central and provincial authority, and law enforcement."
Timoshenko is the most senior official whose removal from office has been confirmed so far. He published his signed resignation letter on social media in a farewell post.
Some Ukrainian news outlets have said he will be replaced with Aleksey Kuleba, head of the Kiev Region, and that Timoshenko may be put in charge of a provincial administration.
Another senior official heading for the exit is Deputy Prosecutor General Aleksey Simonenko, according to reports. Earlier this month he sparked outrage by spending the New Year holidays in Spain.
Aside from the bad optics of relaxing at a foreign resort during wartime, the trip raised suspicions of corruption, as Simonenko allegedly used a car that belongs to a wealthy businessman, and was accompanied by a bodyguard employed by the car's owner.
Following the incident, the Ukrainian National Security Council issued an order banning officials from crossing the national border unless they are on state business.
Simonenko's resignation was officially confirmed by Zelensky's office later in the day.
Meanwhile, Defense Minister Aleksey Reznikov was apparently spared on Monday, after the Ukrainian parliament declined to take action against him over a graft scandal.
A media investigation claimed on Saturday that the ministry was buying food supplies worth hundreds of millions of dollars for troops, at prices that were several times higher than in Ukrainian retail chains.
Reznikov told lawmakers that the documents cited in the investigation were inaccurate, and that some prices were inflated due to a "technical error". Other items legitimately included costs that retail prices do not, he claimed, arguing that the comparison was not valid.
Some members of parliament accepted the minister's explanations, but the Ukrainian anti-corruption body NABU continues to investigate the graft allegations.
Last week, NABU indicted Andrey Kobolev, the former CEO of state-owned energy company Naftogaz. In 2018, he awarded himself a $10 million bonus for achievements in legal battles with Russia's Gazprom.
NABU alleges that Kobolev overstated the financial benefit that he and other executives secured for the Ukrainian company, and consequently took unreasonably high level of compensation.
You can share this story on social media: