Kiev's star mercenary threatens to 'burn Ukrainian army to the ground' – media 
Emese Fajk has protected her position by blackmailing senior commanders, the Daily Mail reports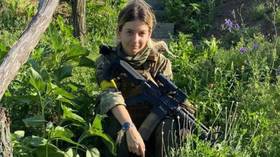 A notorious Australian TV star who joined Ukraine's International Legion blackmailed Kiev's military commanders as she resisted several attempts to kick her out, according to recordings released by the Daily Mail on Saturday.
The secretly recorded tapes appear to show that Emese Fajk, who became the foreign legion's communications director after fleeing Australia following a fraud scandal on a reality TV show, threatened to leak damaging information on the Ukrainian army, should she be expelled over an unauthorized overseas trip.
According to the recordings, to avoid such an outcome she blackmailed Ukrainian general Andrey Ordinovich, who went under the codename 'Zeus.' She said that Ukrainian officials "wanted to deport [her] for desertion" and "terminate her contract."
Fajk explained that her "only luck was that before this I spoke to 'Zeus', and they couldn't touch me. I told Zeus if I'm not coming back to this thing, I'm going to go public on everything I know and why I'm being removed."
The legionnaire described the general as a "super stand-up guy," adding, however, that he understands that if she were to start talking about what she had seen, "it's going to burn the army to the ground."
She went on to say that this leak would be "very damaging for the army if it became public knowledge: the corruption, the s**t going missing, the treatment foreigners get... if I start talking about this the army is going to fall apart with all the internal investigations that [would] have to be started."
Moreover, according to "confidential dossiers" seen by the outlet, the ex-TV star is also allegedly behind the disappearance of medical supplies to the tune of $2.5 million. The documents also allege that she had been stealing donations meant to support Ukraine in its conflict with Russia.
Fajk has been accused of several instances of fraud around the world, most notably her failed attempt to purchase a $4.2 million home at an auction on an Australian reality TV show called 'The Block' by allegedly providing false receipts of bank transfers.
You can share this story on social media: