Multiple Ukrainian officials fired amid corruption scandals
Several deputy ministers as well as heads of regional military administrations have been relieved of their duties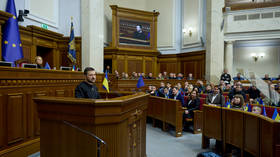 Multiple senior Ukrainian officials have been fired by the country's government on Tuesday. The ongoing reshuffle was announced by Ukrainian President Vladimir Zelensky in his daily video address and affects officials "on different levels, in ministries and other bodies of central and provincial authority, and law enforcement."
The government has dismissed deputy defense minister Vyacheslav Shapovalov, deputy social policy minister Vitaly Muzychenko, as well as two deputies of the minister of regional development, Vyacheslav Negoda and Ivan Lukerya.
Shortly before the government's decision, Shapovalov himself announced his resignation, which was swiftly accepted by his boss, Alexey Reznikov. The move has been prompted by an ongoing graft scandal within the ministry, which had allegedly been procuring food for troops at abnormally high prices.
"Vyacheslav Shapovalov, who was in charge of the logistics of the Armed Forces of Ukraine, asked to be dismissed so as not to pose a threat to a stable supply of the military as a result of a campaign of accusations related to food procurement," the defense ministry said in a statement, branding the allegations "unreasonable and baseless" and lauding Shapovalov's resignation as an "honorable deed in line with traditions of European and democratic politics."
According to a Ukrainian media investigation that emerged over the weekend, various foodstuffs for the military ended up costing several times more than the average prices offered by retailers. Reznikov has rejected the allegations, stating the documents cited in the investigation were inaccurate and some prices ended up inflated due to a "technical error." The minister also rubbished the comparisons with consumer prices, insisting that military procurement includes costs that retail does not.
Apart from the deputy ministers, the government has also dismissed multiple heads of regional military administrations, including Aleksey Kuleba, the head of Kiev Region. According to reports by some Ukrainian outlets, Kuleba is poised to replace Zelensky's deputy chief of staff, Kirill Timoshenko, who resigned earlier in the day.
Deputy Prosecutor General Aleksey Simonenko became another victim of the ongoing reshuffle, ending up dismissed on Tuesday as well. The official became embroiled in a public scandal earlier this month, after spending the New Year's holidays in Spain. Apart from getting bad publicity for relaxing at a foreign resort during the ongoing military conflict with Russia, the official faced allegations of corruption as he'd purportedly used the car of a wealthy businessman with a security detail hired by its owner during the ill-fated trip.
You can share this story on social media: