Ukraine threatens strikes 'deeper' into Russia
Kiev's spy chief said he was happy to see a recent attack on a Russian airbase, but stopped short of taking responsibility for it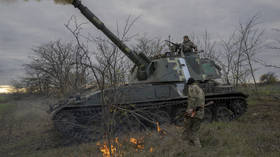 There will be new strikes deep into Russian territory, Kirill Budanov, Ukraine's top spy said on Tuesday. However, he neither denied nor claimed responsibility for a recent attack on a Russian military facility.
Speaking to ABC News, Budanov, who heads Kiev's Main Intelligence Directorate, was asked whether it was Ukraine which had conducted a recent attack on a Russian airbase. "I can't give an answer right now to this question. Only after [the] ending of this war," he replied, adding, though, that he was "glad" to see the strike.
In recent weeks, Moscow has on numerous occasions accused Kiev of carrying out strikes on its military facilities inside Russian territory. Last week, the Russian Defense Ministry said that a Ukrainian drone attempted to target the Engels airfield in Saratov Region, which hosts strategic bombers. Air defenses shot down the drone, but its debris killed three service members, the ministry said at the time.
The top spy went on to predict that Russia was about to face additional attacks. These strikes would become "deeper and deeper," Budanov claimed, alluding that this would also apply to Crimea.
He argued that the peninsula is "part of Ukraine." "We can use any weapon on our territory," he stated. Crimea overwhelmingly voted to join Russia in 2014 following a coup in Kiev.
He also thanked the US for providing support to Ukraine, asking Washington to stay the course and promising that results "would not take very long." "Every taxpayer in the US will be able to see where every cent went," Budanov said.
After midnight on January 1, Ukraine used US-made HIMARS multiple rocket launchers to hit a temporary housing area used by Moscow's forces in the city of Makeyevka in Russia's Donetsk People's Republic. The strike killed 89 people, according to Russia's Defense Ministry. It also claimed that the HIMARS launcher was later destroyed in a retaliatory strike.
Kiev's forces have also on numerous occasions used HIMARS systems and other Western-supplied arms to target civilian population in the Donbass area. Between June and early December, Ukraine conducted 185 HIMARS strikes on the Donetsk and Lugansk People's Republics, according to local authorities.
Ukraine has repeatedly asked the US to support it with longer-range weapons. However, Washington has so far been reluctant to meet this request over fears of escalation.
In September, Russian Foreign Ministry spokeswoman Maria Zakharova warned the US that should it provide Kiev with such weaponry, it would cross a "red line" and make America "a direct party to the conflict."
You can share this story on social media: