Russian military issues update on deadly Ukrainian strike
The number of casualties in the New Year's night strike has grown to at least 89 people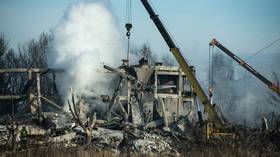 Almost 90 troops were killed by a Ukrainian missile strike that hit a temporary housing area used by Russian forces in the city of Makeyevka in Donetsk People's Republic just after midnight on January 1, the Defense Ministry announced on Wednesday.
The death toll has grown to 89 people, including the unit's deputy commander, the ministry said, as more bodies were pulled from the rubble of a vocational school where the troops were stationed on New Year's night.
The facility was targeted by six missiles from a US-supplied HIMARS multiple rocket launcher, four of which penetrated air defenses, and hit the building at precisely 0:01am on January 1, the Defense ministry said, claiming that the launcher was later destroyed in a retaliatory strike.
While a fact-finding mission is still investigating the tragic incident, it is "already obvious that the main reason for what happened was the turning on and mass use of mobile phones by personnel – contrary to the ban – within the range of enemy weapons" which allowed Ukrainian forces to trace their coordinates, Lieutenant General Sergey Sevryukov from the Main Military-Political Directorate of the Russian Armed Forces told reporters.
Moscow reiterated its pledge to provide all necessary assistance and support to the families of the fallen troops. Russia's Foreign Ministry earlier condemned Washington for not only supplying sophisticated weapons to Kiev, but also providing the Ukrainian military with intelligence about the location of the Russian forces.
You can share this story on social media: