Putin to run for new term as an independent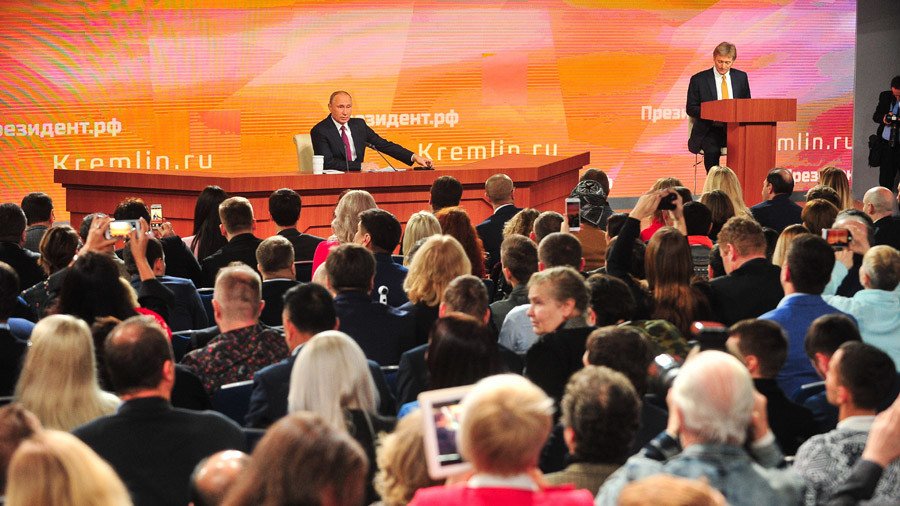 Incumbent Russian president Vladimir Putin has said that he plans to run for another term as an independent candidate, but has declared that he is counting on the broad support of political parties and ordinary citizens.
"This will be a self-proposed candidacy, but I count on support of political forces who share my views on the development of our country and who trust me personally," Putin told a major annual press conference in Moscow on Thursday, answering a reporter's question about his particular plans for the presidential campaign.
The president also said that his election campaign plan was practically ready, but he has not yet chosen the person who would head his election headquarters – an issue that Putin described as "technical but important."
One of the reporters who attended the press conference was glossy-magazine editor and TV journalist Ksenia Sobchak. She asked Putin if the authorities were afraid of the honest competition. She also mentioned anti-corruption blogger Aleksey Navalny, who has repeatedly declared that he would take part in the presidential race, despite having an unserved criminal sentence which, according to Russian law, bars him from running.
Earlier this year, Sobchak herself announced her intention to contest the election in 2018, but said she had no expectation of winning, and would only seek to act as a "none of the above" option for those who are not content with the selection of candidates.
"The question is not whether someone is mature enough for something or not. The opposition must come forward with a clear and understandable program of positive actions," Putin answered.
"You are running under the 'none of the above' slogan. Is it a positive and action-oriented program?" the incumbent president continued. "What are your proposals for solving today's existing problems?"
Putin said that, in his view, Navalny or "the character mentioned by Sobchak" was just a localized Russian version of former Georgian president Mikhail Saakashvili.
"Do you want such Saakashvilis to destabilize the situation in our country? Do you want to live from one Maidan to another?" Putin asked, using the Ukrainian word for "city square" to describe violent rallies and clashes with police, which led to the removal of a democratically elected Ukrainian government in 2014.
"We have been through this all already. I am sure that the overwhelming majority of Russian citizens do not want this," The president concluded.
Russian law requires that people who run as independents collect and submit to the Central Elections Commission 300,000 signatures of people who support their candidacy. People running on the ticket of parliamentary parties are spared this condition, while candidates backed by non-parliamentary parties have to submit 100,000 signatures.
Putin publicly announced his intention to run in the March 2018 elections last week, but did not say if he planned to secure the backing of some political party. Still, shortly before Putin's announcement, the head of the conservative-centrist United Russia, which holds the majority in the parliament, Prime Minister Dmitry Medvedev, pledged "unconditional" support for the incumbent president.
The next Russian presidential election is expected to take place on March 18 – the anniversary of Crimea's reunification with Russia. People who have already announced their intention to run include the founder of the liberal Yabloko party, Grigory Yavlinsky, the longtime leader of the Liberal-Democratic Party of Russia, Vladimir Zhirinovsky, the head of the Grand Freemason Lodge of Russia, Andrey Bogdanov, business ombudsman Boris Titov, journalist and former 'it girl' Kseniya Sobchak, and a number of others.
You can share this story on social media: