Presidential hopeful Sobchak says she supports US sanctions against Russia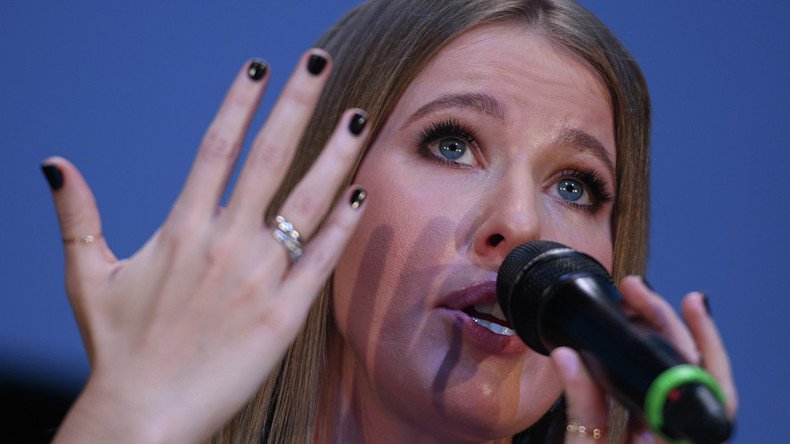 Russian presidential hopeful Ksenia Sobchak says she supports the anti-Russian sanctions imposed by the US, but added that she considered it wrong that the spat between nations hurt ordinary people.
In an interview with CNN, Sobchak said she personally thinks Russia is responsible for the current poor state of international relations. She also reiterated her allegation that the reunification of Crimea and the Russian Federation was a violation of international law.
The former socialite went on to voice support to the anti-Russian sanctions imposed by Washington, but noted that in her opinion it was not fair to punish ordinary Russian citizens for the policies of the state, for example, by complicating access to visa services.
This was the second media statement in which Sobchak opposed the reunification of Crimea and Russia, which took place in 2014 after an overwhelming majority of Crimean residents approved of the move in a referendum. In late October this year, at her first press conference in the capacity of a presidential hopeful, she described Crimea as "Ukrainian territory" and claimed that Crimea's accession to the Russian Federation was a violation of the Budapest Memorandum on Security Assurances.
The original statement caused a lot of critical comments from Russian officials and politicians. A State Duma member and former chief prosecutor of Crimea, Natalya Poklonskaya, accused Sobchak of showing disrespect for her own people and added that the status of Crimea cannot be questioned.
The decision by Crimeans in the referendum was prompted by the ousting of a democratically-elected president of Ukraine during a violent coup in Kiev, and an effective declaration of war on pro-Russian regions, including Crimea, by the new government.
Interestingly, before Sobchak announced her decision to join the 2018 presidential race, her position on Crimea was completely opposite to the current one. In March 2015, she told the Polish edition of Newsweek that she considered the discussion over Crimea closed.
"Crimea is a part of Russia and any further discussion whether it should be returned or not makes no sense," she said.
You can share this story on social media: