Whether it finds Trump innocent or guilty, Facebook's risible kangaroo court is not fit for purpose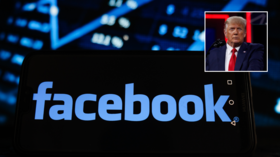 The Facebook Oversight Board is set to decide on whether Donald Trump's ban from the platform should be upheld. The verdict will have a dramatic effect on what leaders can say on social media, but is the board up to the task?
Donald Trump has been impeached twice, but arguably his most far-reaching trial is about to deliver its verdict. On May 5, the Facebook Oversight Board will publish its decision on whether to uphold its ban on the former president, following the January 6 attack on the Capitol.
It's by far the biggest ever case involving social media, and will impact the future of all online debate. Let's not forget, Trump was the most high- profile politician in the world when his account was suspended from Facebook and Instagram.
The Oversight Board was created for cases like this, to adjudicate over important decisions made by Facebook. The social media giant has to abide by the board's decision.
The board is comprised of 20 people currently. They are managed via a trust, and it is billed as using "its independent judgment to support people's right to free expression and ensure that those rights are being adequately respected".
On the surface, this looks like a well-managed system. It gives the general public faith that everything is being handled in a professional and impartial manner. But once you delve a little deeper, things don't quite seem as transparent.
Also on rt.com
Facebook's Oversight Board will be Zuckerberg's patsy censors, giving him cover as he aims to control all global information
The first thing to consider is that the board was created and is funded by Facebook. So Facebook, in effect, pays the salaries of the people who are holding it to account.
The blueprint for the board states that it will comprise 40 members. And yet it currently only has half that, despite the Oversight Board Trust – which finances the whole operation – being formed in October 2019.
It seems unlikely there would be a dearth of candidates for such a prestigious position, considering it has been around for 18 months. Is it because the 'right' people haven't applied or don't want the job?
Given the board will be passing judgement on Trump, its makeup is obviously of interest, too. He's probably relieved Professor Pamela Karlan is no longer on it. She left to take up a job with the administration of Joe Biden, who of course had a bitter battle with Trump to win the White House.
But the remaining members also raise a few eyebrows. Helle Thorning-Schmidt is a former Danish prime minister whose understanding of social media is clearly questionable, as she stirred international outrage online by encouraging Barack Obama and David Cameron to pose for a selfie during a memorial service for Nelson Mandela in 2013.
She has also publicly criticised Trump, particularly over a speech at the World Economic Forum on climate change.
Another board member is Alan Rusbridger, who is best known for being editor of The Guardian from 1995 to 2015. The liberal newspaper's political leanings are no secret, but under his stewardship it ran some highly critical articles about Trump, including one that said he brought "half-baked thoughts" to the Conservative Political Action Conference in 2014.
Also on rt.com
The purges begin! Under new 'independent' oversight board, Facebook & Instagram ban QAnon & 'Militarized Social Movements'
These articles were not authored by Rusbridger and he may not even agree with them, but the fact is they ran under his stewardship. Surely any case involving Trump's right to a Facebook account would be tricky for him to be part of?
Earlier this year, for example, Rusbridger also resigned from a commission to examine the future of media in Ireland because during his tenure at The Guardian, he employed someone who supported the IRA who wrote for their publication under a pseudonym.
Then there's Emi Palmor, the former chief of the Israeli Ministry of Justice from 2014 to 2019.
The large amount of criticism Israel has received for its treatment of Palestinians is well documented. The Association for Progressive Communications published an article which stated that "under Emi Palmor's direction, the Israeli Ministry of Justice petitioned Facebook to censor legitimate speech of human rights defenders and journalists because it was deemed politically undesirable."
Throw in the close relationship of Trump's administration and family with Israel's elite, and she also doesn't look like a beacon of impartiality.
Others include constitutional legal expert Jamal K. Greene of Columbia Law School (where, coincidentally, Joe Biden's granddaughter recently graduated from) and the ex-editor of The Jakarta Post, Endy Bayuni.
Tawakkol Karman is an impressive individual, having become the first Arab female to win a Nobel Peace Prize. She was the public face of the Yemeni front of the Arab Spring, was dubbed 'Mother of the Revolution' and also campaigns for press freedom.
But how do the achievements of all these people tally with Facebook? It's a platform that controls not only its own site, but also Instagram and WhatsApp, collectively giving it 3.45 billion monthly users.
Also on rt.com
By banning Trump and his supporters, Google and Twitter are turning the US into a facsimile of the regimes we once condemned
The level of tech involved in controlling all of that is mind boggling. The algorithms are complex and are way beyond the scope of the lay person. That's why it was hugely significant when in 2019, Edward Snowden referred to Facebook as "just as untrustworthy as the NSA [National Security Agency]". He was trained by the CIA and was so effective as a whistleblower because he grasps what the technology allows.
Lawyers, activists, politicians and newspaper editors, no matter how impressive their CVs, don't have that level of understanding of tech. So, when they are asked to pass judgement, how can they really understand how information is disseminated, with fake accounts spreading information and the manipulation of social media?
Governments and powerful organisations have farms of bots and trolls, literally thousands of people coding and typing to drive a narrative for the world's population to devour. Donald Trump's content will be used in this way, but not the average person's. The point is that the current board is not equipped to grasp how technology is the key here, not what is written on a single account, even if the individual and their position are all-important.
The other key aspect is, why is Facebook allowed to create its own regulator? In Britain, all broadcasting rules are policed by Ofcom, which investigates complaints and decides what action to take. Over in America, the Federal Communications Commission does a similar thing, while Australia has its Communications and Media Authority.
The Oversight Board is trying too hard to masquerade as a peer of these institutions. In January, it tweeted "The Oversight Board has announced its first five decisions, overturning Facebook's judgment in four cases." But that was virtue-signalling.
The Oversight Board has announced its first five decisions, overturning Facebook's judgment in four cases. These decisions demonstrate our commitment to holding Facebook to account. Decisions are binding on Facebook. https://t.co/CYativBmB7

— Oversight Board (@OversightBoard) January 28, 2021
It wanted to show it had gone against Facebook, as if that is a badge of honour. But isn't the entire point to be impartial and come to a properly researched conclusion? Facebook's original decision should have no bearing.
Trump's Facebook and Instagram future will be revealed soon. Whatever it is, it's clear that the Oversight Board is an artificial form of justice and should not be allowed to rule on a matter of such importance that will have a major effect on what leaders can and cannot say in future.
Think your friends would be interested? Share this story!
The statements, views and opinions expressed in this column are solely those of the author and do not necessarily represent those of RT.
You can share this story on social media: