The purges begin! Under new 'independent' oversight board, Facebook & Instagram ban QAnon & 'Militarized Social Movements'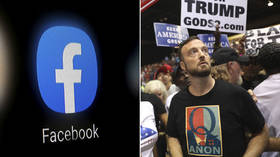 Facebook has stepped up its ban on the pro-Trump conspiracy movement, but in doing so, simply feeds into the 'conspiracy theory' that the social media company is part of a 'deep-state' apparatus hell-bent on global control.
On October 6, Facebook declared war on QAnon, labeling it a "Militarized Social Movement" with connections to "offline violence." Facebook announced plans to "remove any Facebook Pages, Groups and Instagram accounts representing QAnon"—as part of its policy to prohibit "dangerous Individuals and organizations" from using its platform.
"Starting today," the social media mammoth stated in "An Update to How We Address Movements and Organizations Tied to Violence," "we will remove any Facebook Pages, Groups and Instagram accounts representing QAnon, even if they contain no violent content." This sweep follows its August 19th and September 30th announcements of efforts to curb the conspiracist movement.
Also on rt.com
Tulsi Gabbard branded QAnon conspiracy theorist for speaking out against Netflix's 'Cuties' as 'child porn'
The social media giant delegated the removal of such proscribed pages and groups to its "Dangerous Organizations Operations team," its special Stasi-like division responsible for the handling of "Dangerous Individuals and Organizations," as outlined in its Community Standards manual. The resemblance between Facebook's rhetoric and the Soviet nomenclature used to designate a remarkably similar kind of 'undesirable' in relation to the state during the Great Terror, the category of "socially dangerous elements," is striking.
But more to the point, Facebook's recent purge feeds into the "conspiracy theory" that the tech giant is part of the 'deep-state' apparatuses intent on removing Trump from office by any means necessary, including censoring content that supports the Trump narrative that he is opposed by interests intent on implementing "The Great Reset" announced by the World Economic Forum.
Rather than adjudicating either the veracity the statements of QAnon, or the supposed violence stemming from the movement, it's worth noting that in its August 19th update, Facebook claimed that it began removing "Facebook Pages, Groups and Instagram accounts tied to offline anarchist groups that support violent acts amidst protests." This announcement specified the removal of over 980 groups, 520 Pages and 160 ads, "including some who may identify as Antifa."
Also on rt.com
Are dark forces really to blame? So many people believing in conspiracy theories like QAnon reveals a sad truth about the West
Yet as of this writing, I found numerous Antifa groups still represented on Facebook, including some that showed Antifa 'members' brandishing arms and celebrating if not promoting violence. These include pages for Antifa International, Antifa Australia, Antifa Sacramento, New York Antifa, Chicago Antifa, Central PA Antifa, Atlanta Antifa, Rose City Antifa (Portland, OR), and many more.
The total ban on QAnon, coming as it did in early October, along with the continued presence of Antifa on Facebook, is not surprising, considering that the new oversight board became active October 1. According to their op-ed in the New York Times, "The board members come from different professional, cultural and religious backgrounds and have various political viewpoints. Some of us have been publicly critical of Facebook; some of us haven't." Yet this board's "various political viewpoints" are merely varieties of leftist views. The board consists largely of left-leaning, anti-Trump members, 90% of whose institutions have been funded by George Soros' Open Society Foundations.
On October 1, I experienced my first ever, three-day ban from Facebook after over ten years on the platform. This ban came after I made a historical comparison between two murderous regimes. The implication was that no matter how noble or ignoble the rhetoric, any political ideology that leads to the murder of others is horrific. A Facebook pop-up declared that I had violated its community standards. On a forum for sharing opinions, and supposedly in an "open society," such viewpoints may be asserted and debated. But I was banned, merely for making a historical comparison.
Also on rt.com
Facebook & Instagram to purge ALL accounts 'representing QAnon,' even those that don't share 'violent content'
This development supports the argument that I made in Google Archipelago: The Digital Gulag and the Simulation of Freedom, that the greater part of the internet is now owned and controlled by "leftist authoritarians." Corporate would-be monopolists like Facebook, Twitter, and Google support leftism because it serves to collectivize and ingratiate the usual suspects supposedly opposing global corporate capitalist hegemony.
I called the political economy under formation "corporate socialism," or corporate monopolies on top, with "actually-existing socialism" for everyone else. This explains why corporate capitalist giants like Facebook, Twitter, and Google promote ostensibly leftist, even socialist views, all while cashing in on their exclusive control of the informational and technological means of production.
Like this story? Share it with a friend!
The statements, views and opinions expressed in this column are solely those of the author and do not necessarily represent those of RT.
You can share this story on social media: