China's latest sanctions are a bid to permanently end America's interference in Hong Kong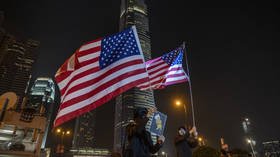 By ending visa-free access to Hong Kong for US officials, China is trying to curb their links with protesters. It's another example of how Beijing is keen to barricade the city from what it sees as corrosive foreign influence.
Earlier this week, the United States slapped a series of sanctions on 14 members of China's National People's Congress Standing Committee.
Their 'crime'? Passing a law which gives Hong Kong the right to remove members of the legislative council on National Security Concerns, which led to the expulsion of two members.
And now China has hit back. On Thursday, Beijing's foreign ministry announced a series of retaliatory sanctions against a number of US figures, stating: "China has decided to take action against US executive officials, congressmen, non-governmental organisation personnel and their immediate family members who have performed badly on Hong Kong-related issues."
Also on rt.com
China's new digital currency spells the end for the US dollar's global dominance and will change the world as we know it
But there's more to it than that, as the measures go beyond a simple tit-for-tat. Along with blacklisting certain individuals, China also proceeded to revoke visa-free access for US diplomatic passport holders who travel to the Hong Kong and Macau Special administrative regions.
The move follows repeated accusations from China of US political interference in Hong Kong in particular. As a result, rather than simply engaging in the largely symbolic retaliation of banning people, Beijing is opting for a punitive reduction of American influence in areas it considers vulnerable.
In 2019, Hong Kong was rocked by a series of violent protests against Beijing's influence in the city. Although the unrest was fuelled by longstanding tensions about the local 'Hong Kong identity' and its sense of differentiation from China, there is no denying that the US politically weaponized and encouraged the protests as part of its broader geopolitical agenda against Beijing.
Key figures in the movement, such as Joshua Wong, openly colluded with American politicians, including visiting the US consulate in the city and travelling to Washington DC to lobby for sanctions against local leaders.
Against this background, China has not surprisingly perceived the protests in Hong Kong to be a broader threat to its national sovereignty and security, an aspect of the unrest that the western media have refused to take seriously.
It has responded by passing the Hong Kong National Security Law, which criminalizes secessionism, subversion, terrorism, foreign collusion and anti-state activity. This has triggered sanctions under the US's Hong Kong Human Rights and Democracy Act, with the Donald Trump administration claiming that the region is no longer 'politically autonomous.' And these have seen local leaders, including chief executive Carrie Lam, get blacklisted, with more added this week.
Of course, such sanctions will not influence China's position on the territory at all. Because of the legacy of western imperialism against the country, it believes its sovereignty has to be defended at all costs. On this matter, there won't be any compromise. And so, Beijing's response is two-pronged – yes, the measures are retaliatory and intended to save face, but they also double down on China's efforts to reduce unwanted American political influence in Hong Kong and as a precaution, Macau.
Also on rt.com
Visa clampdown shows Trump's aim is for Americans to consider EVERYONE from China as 'the enemy'
First of all, the blacklisting of anti-China US senators from visiting the area is not a token gesture. A year ago, Ted Cruz (R – Texas) visited and met with protesters. Secondly, China has targeted a number of US NGOs that it deems responsible for allocating funds and support for various activist groups in the area, including the National Endowment for Democracy.
But most significantly, the end of visa-free entry for those who hold US diplomatic passports is a major move which places curbs on the entry – and by extension, activities – of American diplomats and state department staff. Prior to this saga, they would, for example, have been allowed to visit Hong Kong beyond Beijing's reach, and as the Joshua Wong case illustrated, meet with various activists and political figures. That avenue is now closed.
It's clear that China is not fazed by US sanctions and is continuing to barricade Hong Kong to prevent it from ever becoming a political liability again. From Beijing's perspective, the days of the city being a loophole in its legal system, where foreign powers sought to utilize it as a trojan horse in imposing their vision for China for a whole, are over. The holes have now been plugged.
Still, one should not expect this drama to end just yet. The incoming Joe Biden administration is likely to be equally vigorous and far less selective in its promotion of democracy in Hong Kong, meaning more stand-offs between Washington and Beijing undoubtedly lie ahead.
Like this story? Share it with a friend!
The statements, views and opinions expressed in this column are solely those of the author and do not necessarily represent those of RT.
You can share this story on social media: