Visa clampdown shows Trump's aim is for Americans to consider EVERYONE from China as 'the enemy'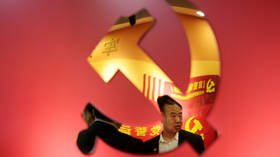 Washington's latest assault on Beijing is to impose visa restrictions on Communist Party members. This concerted effort to dehumanise China is whipping up nationalist fervour in both countries and will have a lasting impact.
Before the Donald Trump administration, there were extensive ties between the American and Chinese people. Over 300,000 Chinese a year were studying in US universities, many Chinese aspired to top technology jobs in America, while millions more visited as tourists annually. Those days now seem very distant indeed.
Yesterday, the White House announced strict visa limitations on members of the Chinese Communist Party (CCP) and their families who visit the United States, restricting them to a one-month, single entry for tourism. This isn't an isolated incident; it comes as part of a broader crackdown against the party's apparent 'influence' in the US, which has seen the administration recently cancel the visas of up to 1,000 students and raise paranoia about espionage.
It's a big deal. The CCP is the world's second largest political party, with over 91 million members (almost equivalent to the population of Vietnam), and when one considers what might constitute "family," the number of people potentially affected by the US ruling easily expands into the hundreds of millions.
This isn't about a secretive elite who rule China from a single room; it spans the country's entire society. Yet now in America, to be associated with this party in any capacity is increasingly politically untenable, especially if one aspires to any kind of meaningful professional life in the US. Every member is being smeared as a potential spy, infiltrator and malign actor. It's a paranoia that is breaking apart the ties between the people of these two countries and inciting nationalist indignation.
The CCP has become America's new bogeyman. It's portrayed in caricature terms by US politicians as a sinister organisation with ambitions for global domination, undermining America in the process.
Its depictions are largely shaped by longstanding cliches of the original Cold War, which are obsessed with 'influence', 'espionage' and 'infiltration'. Figures such as Secretary of State Mike Pompeo repeatedly take aim at the party, frequently emphasising its apparent difference from what he describes as 'the Chinese people,' as if to imply that it is illegitimate and unwanted by the country's population as a whole. The suggestion is that they are really looking for 'American-style freedom' to liberate them from their 'oppressors', as always. Thus, anyone who associates with this party is suspect.
Yet, this is an unhelpful, ideological and misleading picture. Those who are members of the CCP and their associations are not brainwashed robots who all think in unison and follow a grander scheme. They are human beings and, for that matter, individuals.
A party of such a size is quite obviously very diverse. It consists of people from many different backgrounds, professions, regions and consequentially, world views. A billionaire like Jack Ma, who is a party member, is unlikely to hold the same views or outlook as a rural cadre in Henan province. Yet to the US, these individuals are one and the same and are all unwanted by the 'real Chinese people'.
As the Trump administration seeks to cement its legacy, part of its strategy is the deliberate and purposeful bulldozing of 'human-to-human' ties between the US and China, an intentional and unapologetic scaling down of engagement which aims to dehumanise the party and those associated with it.
Also on rt.com
Beijing blasts US govt over visa restrictions for China Communist Party members
Chinese students are no longer looked at as ambitious and hard-working young people who seek to learn from America's world-class universities and who contribute to the economy. First and foremost, they must be considered as potential spies who are obsessed with stealing technology and put the CCP before everything.
By repeatedly demonising the party and creating disincentives to join and participate, the Trump administration, powered by the logic of individuals such as Pompeo, believes it can weaken the legitimacy of the party. However, this is a miscalculation. The prior assumption that the party is illegitimate underscores the actual support for it in China, and in turn fails to appreciate the fact that waging hostility against the country encourages nationalism.
On Thursday night on Twitter, things got extremely heated. Following in the footsteps of Zhao Lijian's provocative tweet directed at Australia, China Daily Bureau Chief Chen Weihua used a profane insult against US Senator Marsha Blackburn for a tweet which was, for all intentions and purposes, racist.
China has a 5,000 year history of cheating and stealing. Some things will never change...

— Sen. Marsha Blackburn (@MarshaBlackburn) December 3, 2020
It's easy to try and dismiss this kind of thing, irrespective of its appropriateness, as a state- orchestrated stunt. But in practice it's more endemic of the growing anger and frustration the Chinese are feeling in this climate against America.
Ultimately, 'human-to-human' ties between the US and China are unravelling at an alarming pace, and this is absolutely the intention of the Trump administration. The attempt to demonise a country and a ruling party that spans to nearly 100 million people has a profound impact.
It's creating a toxic culture of McCarthyism, racism and fearmongering in America, while back in China it is causing popular anger, indignation and growing impatience to the point that insults against US politicians are not condemned, but widely celebrated. Instead of these two countries engaging and learning with each other, we are accelerating into a downward spiral of mutual suspicion which will have far deeper implications than the original Cold War.
Think your friends would be interested? Share this story!.
The statements, views and opinions expressed in this column are solely those of the author and do not necessarily represent those of RT.
You can share this story on social media: