Raise a glass to war crimes: Global campaign to buy Aussie wine in China trade battle is shockingly ill-timed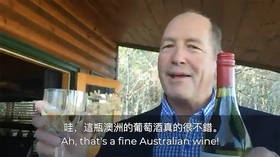 Australian outrage at Beijing's meme of a murderous Aussie soldier has been undermined by appalling new images from Afghanistan. Not the best time, then, to try to convince the world that China is the 'bad guy' in their trade war.
The ongoing row between Australia and its largest trading partner, China, begs one simple question: since when did us Aussies become so thin-skinned?
One offensive social media meme posted by a functionary of the Chinese government and the Inter-Parliamentary Alliance on China has launched a 'buy Aussie wine' campaign in a bid to shore up our trade deficit and show solidarity against the bullies from Beijing.
I jest. But this group of elected MPs from around the world has sided, seemingly without asking too many questions, with the Australians as they battle with Beijing over the state of their A$252bn trade deal with their gigantic northern neighbor.
Now we have a host of international IPAC wannabes and has-beens urging the rest of the world to stump up for a bottle of plonk from Barossa Valley, Penfolds, or Wolf Blass to help make up for the shortfall in Chinese demand since they slapped punitive tariffs on Aussie wine and other imports.
As one wag on Twitter pointed out, "You will need to also buy a shitload of barley, wheat, lobster, timber, coal, cotton, sugar, copper & soon iron ore to go with that wine if you want to repair the damage #ScottyFromMarketing has done to a 100-year-old trade relationship."
While he has a point, other commentators suggested that a glass of wine might make for a fitting toast: "Let's have a drink of wine to celebrate Aussie war crimes," was one suggestion. Ouch, there's that war crimes talk again.
It was Beijing's undiplomatic dig at which PM Scott Morrison (the 'Scotty from Marketing' mentioned) took offence. A "repugnant" Chinese social media meme showing an Aussie soldier slitting the throat of an Afghan child draped in the Australian flag while clutching a lamb, captioned "Don't be afraid. We are coming to bring you peace" went viral, and not just Down Under.
This crude meme, of course, was a comment on the recently released top-level Brereton report on the battlefield behaviour of Australia's elite SAS regiment in Afghanistan, which claimed a murderous "warrior culture" was responsible for the deaths of 39 innocent Afghan civilians at the hands of Aussie soldiers.
The Chinese clearly know that report has ripped the nation apart, largely over who knew what and when, and in their attempt to wind up the PM, they hit it clear over the boundary fence.
OK, so it's a sore subject, but Morrison should have known better than to take the Chinese bait, but he did, and hook, line and sinker. We were once renowned as a bunch of laid-back larrikins with a wicked sense of humor and here is our leader, squealing with social media indignation, because some low-level official slaving away at his pigeonhole in a dreary grey office in Beijing has said something nasty about us on Twitter.
Morrison should have ignored the childish provocation on social media. Teenagers lose their rag over slights on Twitter. World leaders don't. Trolls:1. Scotty from Marketing: 0.
Not only has it shown a very un-Australian haste to take offence, it looks like the PM is trying the 'dead cat' strategy championed by famed Aussie political strategist Lynton Crosby, where the idea is to introduce a dramatic, shocking, or sensationalist topic to divert attention away from one that's more damaging. So, look at those bullying Chinese and their slurs against Australia. (Don't look at our previously revered soldiers going rogue with "bloodlust" and slaughtering people they are supposed to protect.)
Also on rt.com
Pic of Aussie soldier CHUGGING BEER from 'prosthetic leg of dead Taliban fighter' emerges amid Afghan war crimes report fallout
To pile on the pain for Morrison, this week, pictures have appeared online showing Australian troops chugging beer from a prosthetic leg taken from the body of a Taliban militant killed in an assault in 2009. It makes that Chinese meme look tame and Morrison appear even more ridiculous.
The Aussies have only themselves to blame for finding themselves in this mess. Trying to curry favour with Donald Trump back in April, they were at the front of the queue in calling for an international inquiry into the coronavirus pandemic, with the subtext being that something fishy went down in Wuhan that China was not sharing with the rest of the world.
Beijing disagreed. Understandably, it took offence at the finger-pointing foreigners and their assertions, and decided Australia should be punished with sanctions for choosing to take a lead in the China-bashing.
Firstly, they slapped punishingly high tariffs on a range of Australian imports, such as wine. But now, after months of tit-for-tat and name-calling, with Canberra choosing to fight back and take the moral high ground over human rights – no-one mention Australia's indigenous peoples or asylum seekers in offshore detention centres, please – China finally found a vulnerability it could exploit in the controversial military report.
Each phase of this ongoing and bad-tempered saga is like an episode from the long-running Aussie soap 'Neighbours'. Everyone is quick to take offence and accusations fly like, well, flies at a barbecue. And what's that smell? Oh, yeah, I recognise it. That's the stench of smouldering hypocrisy, and it's coming from both sides of the fence.
Think your friends would be interested? Share this story!
The statements, views and opinions expressed in this column are solely those of the author and do not necessarily represent those of RT.
You can share this story on social media: