Claims that Biden will be influenced by Beijing are Trump's brazen attempt to create a Chinagate crisis that doesn't really exist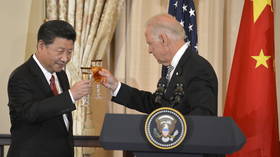 US intelligence suggestions that China will attempt to infiltrate the Joe Biden administration on a huge scale are not based in reality, but represent an effort by Donald Trump to dictate his successor's policies towards Beijing.
Is Joe Biden susceptible to influence from China? That's the narrative that's being peddled. US intelligence official William Evanina claimed on Wednesday that China was seeking to conduct an "influence campaign on steroids" against the incoming Biden administration, adding that the country's Communist Party was utilizing thousands of spies in an attempt to gain access to it.
The comments come as the White House continues its effort to consolidate its tough legacy on Beijing as it prepares to leave office. New sanctions against Xinjiang cotton have been announced, visa limitations have been imposed on members of the Communist Party visiting the US and a new bill is passing through Congress which could remove Chinese companies from US stock exchanges over the coming years.
Evanina's comments are an obvious political stunt, and the mainstream media are far too generous in not questioning the agenda behind them. The citation of an 'intelligence official' might suggest impartiality, but in this case it is quite obvious that the outgoing administration is aiming to box the new one into a hardline strategy on China, not just through policy, but narrative, too.
In seeding the claim that Beijing is aiming to infiltrate the Biden White House, the objective is not to voice 'sincere concerns' but to whip up fear, paranoia and suspicion which will force the new administration to act in such a way that subsequently disproves it.
The politics of the US are arguably more polarized than at any other point in its contemporary history. The stakes are high, and emotions are strong. The Republicans and the Democrats are so divided on the major issues that they have difficulty in coming to terms with the other winning, and thus presidential transitions are increasingly carried out in 'bad faith' – one party tries to completely derail the legitimacy of the incoming administration as early as possible in order to set the stage for contentious oppositional politics.
And the use of 'intelligence' sources and claims of foreign subversion are an increasingly attractive method of doing so. The mainstream media have a problem in that they take anything that is said by a US intelligence official at face value; there is an assumption that because they work in intelligence, they 'must' be speaking the truth.
What is often overlooked, however, is that these officials are always loyal to the specific executive who oversees their work, and likewise their political agendas. So, an intelligence official in the Trump administration ultimately speaks on behalf of the Trump White House, and whatever agendas it is pursuing. There is little scrutiny of why some things are made public, and others are not.
And so, in the midst of a presidential transition, when a US official says something which is designed to discredit or shape the public narrative concerning the Biden administration in a certain way, it should be taken as politics rather than an empirical reading of intelligence. The bid to couple Biden with China, in the view that he may be slightly more reconciliatory than Trump, is quite obvious.
While espionage does happen, Biden will have access to all US intelligence and is already starting to receive classified briefings. So why does he need to be 'publicly warned'? Don't you think he will be in contact with the FBI and CIA himself to know what is going on?
And so, the obvious conclusion is that Evanina is talking to the public and the objective is to incite fear, paranoia and suspicion regarding China, which will be used immediately to establish an oppositional line from Republicans that Biden simply isn't tough enough.
Also on rt.com
Biden says he will keep Trump's tariffs on China for a while
We've seen this all before with 'Russiagate' – Democrats endlessly characterized Trump as being beholden to Russian President Vladimir Putin, and the same thing is going to happen here, but with Biden and China. Every single manoeuvre by Biden which isn't hardcore Cold War is going to be vilified, questioned and then subsequently used against him to add to the 'opinion' that Chinese President Xi Jinping has infiltrated the White House, as with the narratives concerning Biden's son, Hunter. This isn't intelligence, it's politics.
Thus, to prove these suggestions are not true, Biden will have an incentive to act tough, knowing that he will be lambasted for every concession he is perceived to make towards Beijing. This will make it untenable for him to reverse anything Trump is passing against China right now.
In this case, the mainstream media must stop accepting that everything Washington says about an 'enemy country' constitutes an authoritative and impartial source, and instead recognize that the 'bogeymen' making the comments have become bipartisan political sticks for parties to hit each other with as they find each other's politics increasingly untenable.
Perspective is needed, but as usual it will be drowned out by the hysteria and gratifying narratives of the new McCarthyism.
Think your friends would be interested? Share this story!
The statements, views and opinions expressed in this column are solely those of the author and do not necessarily represent those of RT.
You can share this story on social media: