How Black Lives Matter, a Marxist political movement, toppled the establishment to become Art's #1 powerbrokers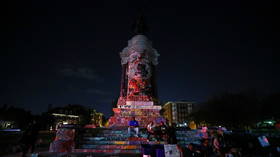 Arts Review has named BLM as the most dominant force in the art world – the first time a movement rather than an individual has been voted top. It just demonstrates all that's wrong in the woke world of modern culture.
A 2020 "power list" issued by a leading arts magazine this week names Black Lives Matter as the most powerful force in the art world. This assessment from Art Review may appal and discourage, but it is entirely accurate. This year, BLM has swept across the West like wildfire (figuratively and literally), inspiring mobs to topple statues, deface monuments and burn buildings. Even so, too few people realise how deeply arts administrators back this self-avowed Marxist political movement.
Also on rt.com
By postponing an exhibition featuring paintings of KKK figures, senseless censors are devaluing art
Far from striking from outside the establishment, BLM's hostility to traditional European and American culture is entirely in tune with mainstream thinking within the arts, academia and government. A new generation (trained in identity politics and grievance studies at university) believes it must back activism. It is not so much a question of staff choosing between personal politics and duty – many organisations have diversity, equity and inclusion policies that institute social justice as organisational policy.
'Topple them all!'
When the BLM protests (quickly followed by riots) arose after the death of George Floyd in late May, the art world was keen to quickly get involved. The Tate issued a statement backing BLM. Artists donated to the movement and arranged auctions. Creative Capital, which "funds innovative and adventurous artists... who shape the future" outlined how to support BLM. The New York Times listed a graffitied statue of Robert E. Lee in Richmond, Virginia as its number 1 example of protest art in the last 75 years. BLM-supporting London Mayor Sadiq Khan vowed to "diversify" the city's monuments and place names.
The director of the Institute of Contemporary Art (ICA) in London celebrated the toppling of the Bristol statue of Edward Colston. He wrote enthusiastically: "They all need to go!" (A bold statement for a registered charity, which is forbidden by law from engaging in political campaigning.) The ICA is a centre of artivism, dependent on public funding and donations because it has a tiny audience. Its Twitter account supposedly has 190,400 followers, but most of its posts have between 2 and 8 "likes".
So much for contemporary art, but how could a movement linked to iconoclasm be embraced by historical museums?
Sympathy for BLM's narrative of racial injustice, however, is widespread in museums.
Rewriting history
Linking slavery to the foundation of the USA – apparent in The New York Times's the 1619 Project, a political (and biased) reinterpretation of history – started in 2019 and had already paved the way for BLM. The association of museum professionals in the UK has stated, "We unreservedly support initiatives to decolonise museums and their collections". It actively demands increased state support while wishing to use museums as political platforms – only promoting one side of the political spectrum, naturally.
Museum staff are embarrassed by historical artefacts and terrified of being accused of elitism or racism.
So, when the riots and protests broke out, the museum sector was willing to bend the knee. The British Museum engaged in the symbolic humiliation of its founder, citing slavery links. In the summer, the Smithsonian in Washington DC, issued a guide to "white culture" that was so controversial it had to be withdrawn. Museums in Western Europe hastened to put on displays about European culpability for slavery.
Only a few historians have been brave enough to point out that displays and repatriations are often gravely biased.
In a recent essay, historian Robert Tombs has written of how museums have presented distorted understandings of slavery. While the North Atlantic slave trade is well documented and commemorated, other slave trades go unmentioned. Tombs's example is enslavement and brutality by the Asante (or Ashanti) people in West Africa. Researching my latest book, I read histories of Aztec slavery and human sacrifice. There is no part of the world – and no race – that has not at some time engaged in slavery. Portraying the North Atlantic slave trade as uniquely evil is a central tenet of American race activists, including BLM.
A spark of resistance?
Dwelling on slavery is encouraged by lucrative industries of academia, publishing and consultancy. A glimmer of hope comes with resistance of black intellectuals such as Coleman Hughes. In his review of Robin DiAngelo's White Fragility, Hughes calls it a "masterful exploitation of white guilt" and "zealotry disguised as scholarship". But for white arts professionals to break ranks to condemn BLM's tacit support for mass vandalism, destruction and looting of property is a rare act. A climate of fear in the arts prevents honest discussion of race activists' violence against cultural material.
BLM has come to dominate the art world not by kicking open museum doors but by being invited inside. However, if artists and curators think BLM is simply a modern extension of the civil rights movement, they are in for an unpleasant awakening…
Like this story? Share it with a friend!
The statements, views and opinions expressed in this column are solely those of the author and do not necessarily represent those of RT.
You can share this story on social media: